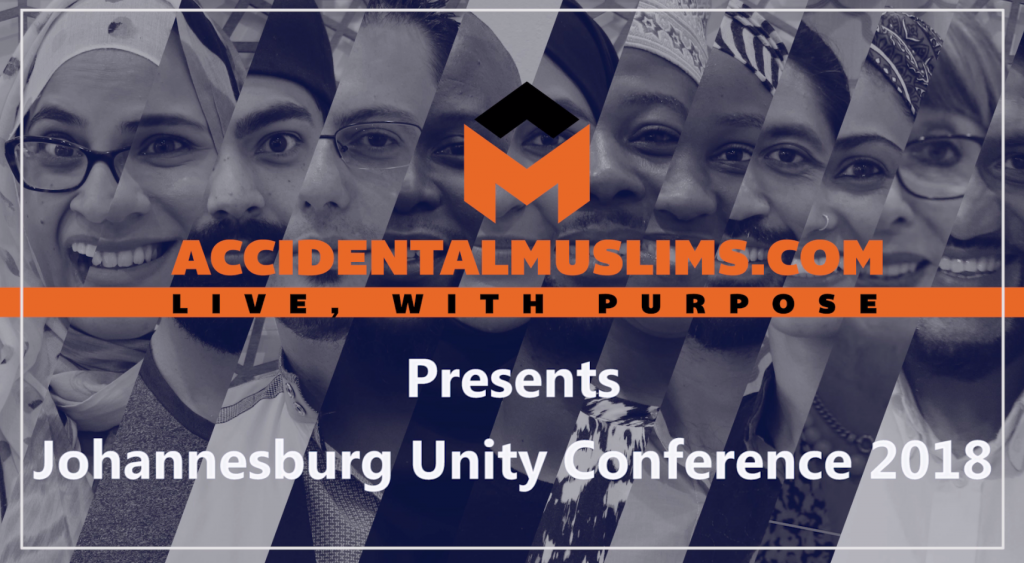 Few more sleep to go till the AccidentalMuslims.com Jhb Unity Conference 2018!! It takes place on Saturday, 21st April 2018 at the Qurtuba Islamic Academy Hall in Linbro Park – Johannesburg.
The aim of the conference is to inspire the audience to live with purpose and features a stellar list of several highly impactful, motivational and vibrant talks by a variety of diverse and dynamic speakers from travel bloggers to community leaders, comedians to political journalists and more.
The conference is modeled in the form of TED.com talks for high impact and engagement and a limit to long labouring lectures. It's going to be exciting, new and inspirational so book your ticket today!
"We live in a fragmented community with many "keyboard activists" against racism, cultural norms, stigmas, depression and even suicide to name a few. And there are those people who have broken through these barriers and pushed the envelope to achieve their own form of success. The AccidentalMuslims.com conference is an event where we can have those difficult conversations, tell those untold personal & vulnerable stories and hopefully through these inspiring journeys we can learn to love, live, dream, share, empathise and unite even more." – Khalil Aleker (co-founder of AccidentalMuslims.com)
Tickets cost R350 for the full day event including lunch and refreshments. They can be purchased online via Quicket – https://www.quicket.co.za/…/39937-accidentalmuslimscom-un…/…
AccidentalMuslims.com is co-founded by Khalil Aleker and Zaheer Parker. Two South Africans looking locally for inspiring stories to share and to bring together people from the local playground of South African forward-thinkers, innovators, entrepreneurs, leaders, motivators, changemakers and leap-takers! #supportlocal
Tickets are selling fast!! Book yours before it's sold out!
Accidental Muslims Unity Conference
8.30am – 4pm
21 April 2018
Qurtuba Islamic Academy Hall
Linbro Park
Johannesburg
Open to all! Join us for an inspiring, informative and uplifting day!
For more info contact us on info@accidentalmuslims.com or 072 244 3668.
Follow us on social media:
www.facebook.com/accidentalmuslims
www.instagram.com/accidentalmuslims
In collaboration with