2023 Ramadan 1444 Bread pledge
DONATE NOW
Account name: Nanima Foundation
Account Number: 62672869660
Bank: FNB
Branch code: 250655
Reference: BP+ Name and Surname
AMOUNT: (Amount + any bank charges if ATM of cash bank deposits)
ALWAYS VERIFY OUR BANK ACCOUNT BEFORE DEPOSITING ON OUR WEBSITE : http://bit.ly/NaniBank
For Section 18 Tax certificates complete form below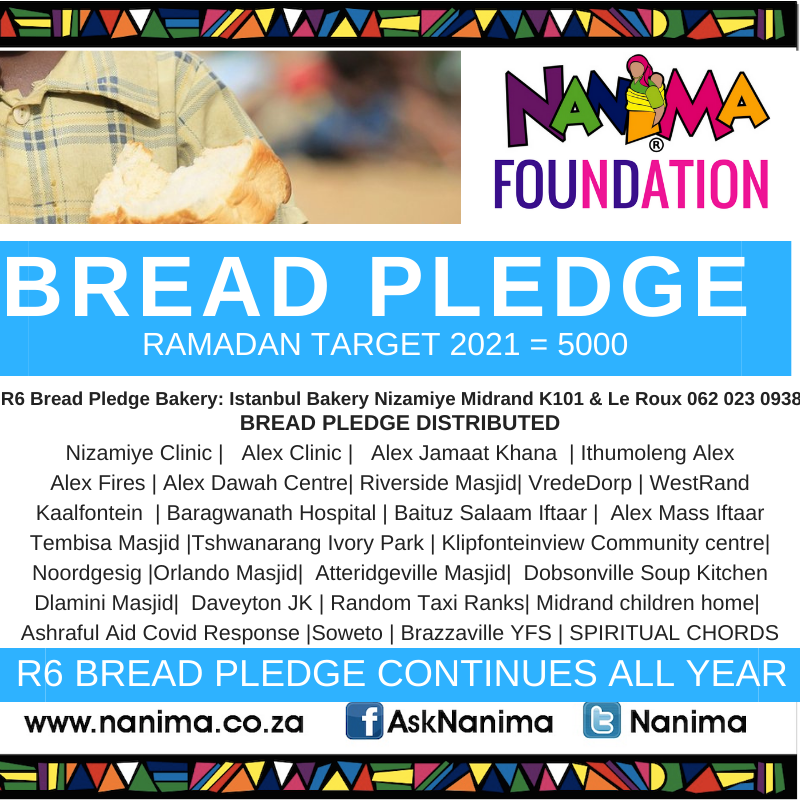 APRIL 2020 NANIMA LOCKDOWN LOAVES
Nanima Foundation assisted by  Ashraful Aid , Spiritual chords,   Youth for survival, Alfred Elderly, Fordsburg Independent donating loaves towards homeless shelters during the Covid Response Via Disaster Management
2022 Ramadan Bread pledge 1443

DONATE NOW
Account name: Nanima Foundation
Account Number: 62672869660
Bank: FNB
Branch code: 250655
Reference: BP+ Name and Surname
AMOUNT: (Amount + any bank charges if ATM of cash bank deposits)
ALWAYS VERIFY OUR BANK ACCOUNT BEFORE DEPOSITING ON OUR WEBSITE : http://bit.ly/NaniBank
For Section 18 Tax certificates complete form below
If you would like to donate  please complete the form below to receive your tax certificate.
Only once we receive
HOW NANIMA BREAD PLEDGE STARTED
After watching the story of Ali Banat, I was inspired to have a goal today and start a bread pledge project inshaAllah. He started a bakery which gives about 3000 loaves away daily in Africa. Ali Banat passed away before Magrib on 29 May 2018 in Ramadan. May Allah reward him and all marhomeen. Ali Banat had everything anyone could desire in the world. See his full story below
Bread will be distributed to Ebony & Ivory Park, Tembisa and Alexandra Township or hospitals/ health clinics in Sandton, Midrand area in Phase 1.
NANIMA FIRST BREAD PLEDGE DISTRIBUTION AT NIZAMIYE HEALTH CLINIC.

Alex Old age home distribution
Alex Old age home Outreach for Alex elderly.
Witness to Nikah at Alex Old age home Bread pledge distribution
Ali Banat Inspires Nanima  Bread Pledge
see story below
What is your goal or project today?
May Allah reward him pertually for inspiring all of us to live a better life helping others for our Akhira.
more info about Ali Banat – Muslim Around the World
Our first bread pledge distribution at Nizamiye Clinic in Midrand.

To Allah we belong and to Allah is our return
Ali Banat passed away here is his final message and advise to us all

Ali Banat's Bread project – MATW PROJECT
PLEDGE NOW