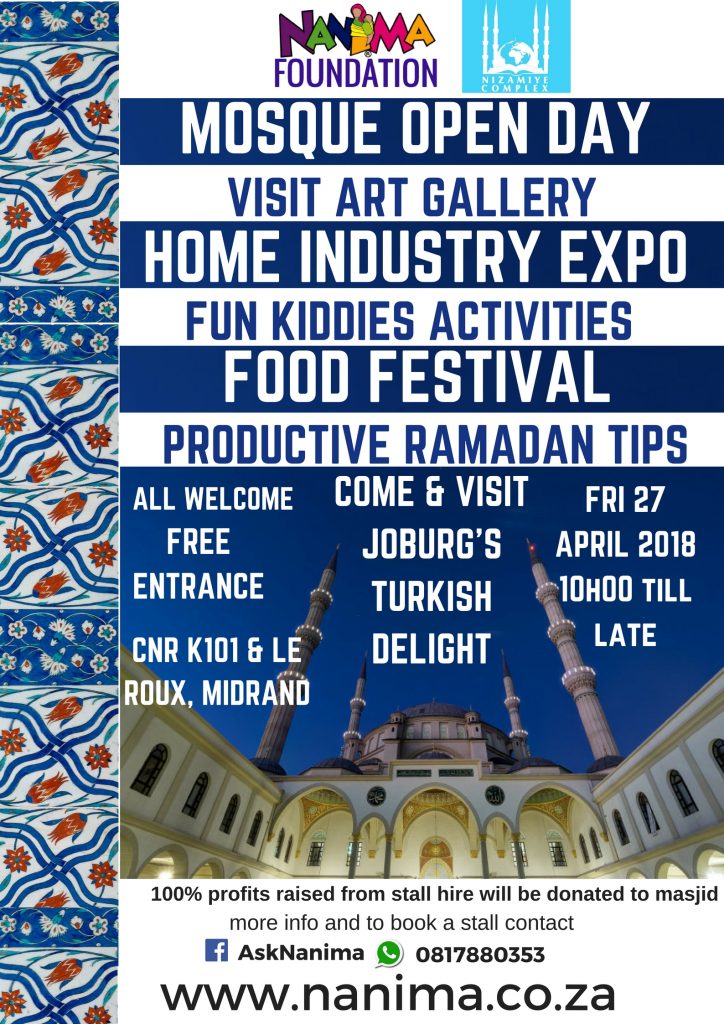 This is a masjid fundraiser
If you would like to be a sponsor for this event – sponsor packages available. more info email nanima[@]nanima.co.za or whatsapp 0817880353.
This  Nanima foundation project we will be hosting the Nizamiye Mosque Open day. All profits raised from hiring out stalls at this event and any sponsorship will go towards Nizamiye Masjid
.  May Allah make this journey easy, successful and sincere and accept all our efforts. Ameen
Application Nanima Nizamiye Jumuah Bazaar 27 April 2018
ONLY Limited STALLS AVAILABLE. We may have repeat food stalls as long as it does not conflict with nizamiye complex.
NB. The expo will be held outdoors and you will require to bring your own shade i.e Gazebo or umbrella
Expo will be held Friday jumuah Public holiday from 10am till late
Benefit from both worlds. By hiring a stall at NIzamiye Mosque Open day and Nanima Home Industry Expo – 100% profits made from hiring out stalls will go towards the masjid.
We will not be providing any tables but if there is an overwhelming need for tables we will hire out tables at R50 tables. Last day to order tables are 20 April 2018.
Electricity will only be given to urgent electricity applications. Electricity cost R150 for the point. You will need to bring your own extensions.
Please do not make payment until you receive confirmation and bank details.
1. Complete application form and register by making payment on Friday 20 April 2018.
2. There is place for limited stalls.
3. Food stalls can not conflict with Nizamiye and may need to be approved by NIzamiye committee
4. Food stalls can't sell any retail soft drinks.
5. Stalls will be approved first.
6. You will receive registration information to make payment and confirm your spot. No payment no spot.
7. Payment means automatically you agree to terms and conditions of the Ask Nanima home industry expo
8. All stalls are allocated on a first pay first allocation basis per category
9. Registration closes on 20 April 2018. NO LATE REGISTRATIONS APOLOGIES. We will keep you on waiting list for next expo.
10. Check your email, Spam or junk folder for email confirmation that we received your application