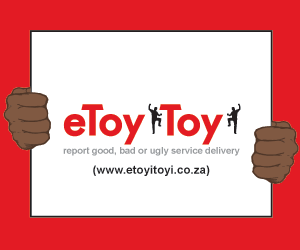 Please be patient while tool loads below
Report Good, Bad or Ugly Service delivery
report in  tool and on web – www.eToyiToyi.co.za
sms: 0817880353
email: etoyitoyi@gmail.com
facebook:  http://www.facebook.com/eToyiToyi
Twitter: http://www.twitter.com/eToyiToyi
Which province and places in South Africa are the best and worst in service delivery?
Stand up and be counted. G@ vol and Sick and tired of bad service delivery especially when it comes to basic service delivery in your area.
No water,
electricity tripping,
 potholes bigger than the big hole of Kimberly.
jobless
homeless
Here is  a chance to see which province is the worst in service delivery. As taxpayers and hard working citizens let us not tolerate bad service anymore. Here is your chance to #eToyiToyi
Categories
Good Service Delivery 
Report if you want to pat someone on the back for job well done.
Bad Service Delivery
If you are facing everyday issues  in your area e.g  power cuts, water outages etc.
Ugly Service Delivery
These reports are usually protests that we see in the media ends up in a march.
Benefits of eToyiToyi
We are independent and not affliated to anyone
When you eToyiToyi your complaint, compliment regarding service delivery will be recorded and count towards highlighting the plight of service delivery in your area
Reporting is easy you could email, sms or tweet your complaint or compliment.
This is a service for tracking service delivery in South Africa
It is a passive protest without vandalism.
 The impact is more because the more people that report about an issue the bigger the problem will look on the map.
We will inform key stakeholders regarding this initiative. It will be their choice to respond or not.
The more people submit a eToyiToyi report in your area the bigger it will show.
Service is free and you can use free smses. cost may only relate if you sms your report at normal sms charges.
Stand up and be counted – submit a eToyiToyi report below.
easiest and fastest way to track service delivery in your area
you can upload pictures and be a reporter in your area to show us how bad and ugly the situation is.
we can't solve the problem for you but we can definitely highlight it for you here and you can put pressure on service delivery agents in your area to see how bad it is by looking at this tool and give them opportunity to respond.
departments, municipalities are failing miserably yet their report cards are showing distinctions. Let us show them their real marks.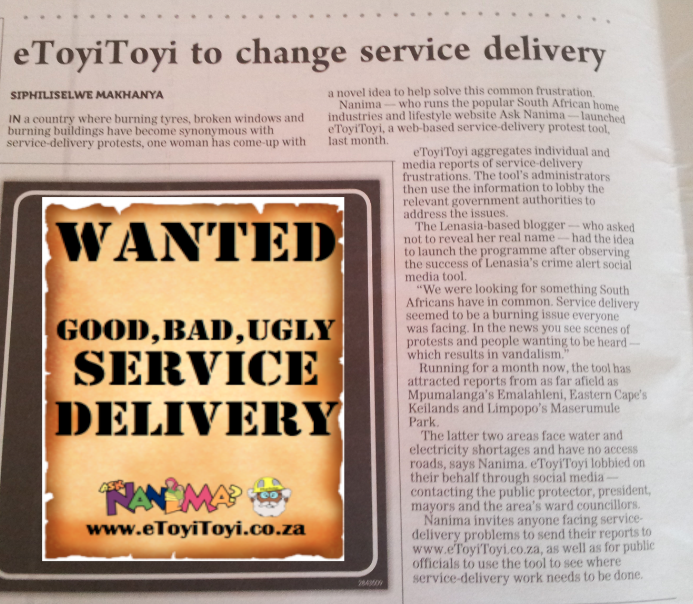 some questions answered regarding this initiative
What was the inspiration behind eToyiToyi?
I was very impressed with the tracking tool used by Lenasia Crime alert to highlight crime in the area. Ask Nanima wanted to use the tool as well. We were looking for something all South Africans have in common. Service Delivery seemed to be a burning issue everyone was facing. In the news almost daily you see scenes of protests and people wanting to be heard which results in vandalizing and causing more damage. My parents live in Emalahleni/Witbank, Mpumalanga. They service delivery in their area is appalling. Basic service delivery is a luxury. Undrinkable water and water cuts, potholes as big as the big hole of Kimberly and electricity outages are the order of the day there. People have just accepted this as a way of life.  Recently for weeks the garbage has not been collected. In protest bakkie loads of garbage was left  at the mayor's house. We thought the eToyiToyi tool would be the perfect way for others in the same boat like Emalahleni to highlight and track areas where good, bad and ugly service delivery in the country are.
What does it aim to achieve?
Government departments, municipalities, wards are failing miserably. This is not accurately reflected on their report cards published in the media.  eToyiToyi wants to give back power to the people. Amandla. eToyiToyi wants all service delivery agents to be held accountable and responsible for their duties. eToyiToyi wants to visually represent where in the country the problem areas are and what basic service delivery is lacking there. With eToyiToyi you can report good, bad or ugly service delivery. This is a passive protest without the vandalism. Currently service protests are very destructive. eToyitoyi is the place where you can stand up and be counted. Your story will be recorded. You will be heard. The more people eToyiToyi, the louder the noise on the eToyiToyi map.   Anyone, anywhere in the country with sms, tweeting, email or web access can report issues they are facing. This will give power to the people from a farm town in Northern Cape to the busy streets of Jozi . Anyone,  anywhere with basic technology has the capability to be their own eToyiToyi reporters, highlighting the crisis they are facing in their area. There is capability of adding video and pictures to emphasise their plight. eToyiToyi wants people to demand basic service delivery in their area in a very proactive and constructive way.
What has the response been from readers in the month that it has been up?
The response has been overwhelming. Only in our second day going live, we managed to get interviewed on Talk at Nine on 702. Article from sunday time extra. Currently our focus has been to populate the tool with "ugly" service delivery protests in the country via media reports. For some reason everyone leaves messages for the president on the Ask Nanima website. Amazingly enough we have managed to get a few reports from very rural areas in South Africa facing horrible service delivery in their areas. These are clearly the forgotten places eToyiToyi are targeting to magnify the crisis they are facing in their villages.
What inspires your passion for helping the community?
Ask Nanima is a purpose driven website. The spiritual rewards, creative challenges and making a difference in the community are major motivating factor. Our aim has always been to empower, encourage and support people to live a better life. Help people find solutions to problems they are facing. While one of our main aims with Ask Nanima is to empower bread winner home industries, with eToyiToyi we want to play a small role in highlighting and improving basic living conditions in this country.
You were telling me about how Nanima tried to put a community member in touch with their ward councillor to solve a service delivery problem. Do you mind recounting it briefly again in writing, please?
In our infancy we have managed to get reports from places far and wide. eToyiToyi was amazed to get two reports from very rural South African towns. Keilands in the Northern Cape and Maserumule Park village in Limpopo province. There are 80 houses with no water , electricity and access roads in Maserumule Park Village. Keilands facing similar issues. From our side we have published this report on our tool, twitter and facebook pages. Sent messages to the public protector, tweeted the president, emailed the mayors and smsed the ward councilor of the area highlighting the plight. I have heard that in Keilands communication may have started between the ward councilor and the eToyiToyi reporter in that area. We have also received an sms from a domestic worker waiting since 2008 for a RDP house. We emailed key stakeholders in Gauteng provincial department and have managed to get a response from the housing and settlements department regarding the steps she needs to take to take this matter forward. Thus far with eToyiToyi , we managed to open up channels of communication between key role players and their communities with very little effort. Let us hope together they can find solutions to issues they are facing.
How far would you like to see it go?
We would love eToyiToyi to be the service delivery watchman of the entire South Africa. If anyone has a good, bad or ugly service delivery report it should be on speed dial to #eToyiToyi. It should be the tool that the president, government officials, departments, municipalities and wards watch very closely to monitor issues they are facing from a grass root level. eToyitoyi should highlight problem areas communities are facing and make it easier to pinpoint and find solutions to problems they are facing. Ultimately eToyitoyi wants everyone in this country to have their basic service delivery right fulfilled and in essence let everyone live with dignity in this beautiful land.
Website : www.eToyiToyi.co.za
Brought to you by – Ask Nanima? – www.nanima.co.za and Ask Madala? – www.madala.co.za
Click on submit report to report your service report. You can choose multiple categories your report relates to e.g bad service, protest and maybe electricity. Please be patient as tool loads if you can't see it refresh or  click here