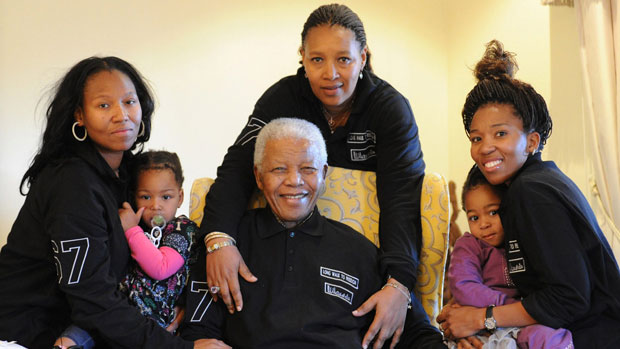 This was the last time I saw Madiba in the golf kartjie. Yesterday went to Liliesleaf the place where  Madiba and 11 other freedom fighters were caught. Was amazing to see where it all happened and to see some unsung heros especially how 4 escaped from Marshall town station.
What are you doing for your 67 minutes?
Nelson Mandela at the final of the world cup – closing ceremony
Mandela day 2010
According to CBC
Millions of South African schoolchildren sang to celebrate Nelson Mandela's 93rd birthday Monday, leading a worldwide chorus of birthday wishes sent to the anti-apartheid icon.
More than 12 million students sang a special version of "Happy Birthday" before lessons began Monday.
Mandela also received birthday wishes from South African leaders including President Jacob Zuma and from U.S. President Barack Obama.
In a statement sent Sunday, Obama called Mandela "a beacon for the global community, and for all who work for democracy, justice and reconciliation."
Mandela, who has retired from public life, is expected to spend the day with his family in his home village of Qunu, some 1,000 kilometres south of Johannesburg.
In 2009, his birthday was declared as an international day devoted to public service.
source: cbc
18/07/2009
Nelson Mandela's 90th birthday was a whole month party. I was thinking,  there was so much money and effort spent on this it could be used better helping others. Glad to see  that in 2009 and this year everyone is being more sensible and standing up for Madiba's beliefs like ubuntu and helping other's in need during his birthday celebration.
the famous people love him.. i also saw brad pitt wheeling Madiba around in one pic.. where's Oprah in this pic? She pledged her support via twitter..
This is what the man Nelson Madiba Mandela had to say about Mandela day in 2009.
source mail and guardian
Former president Nelson Mandela on Tuesday called on people to dedicate their time and effort to serving their communities, as his life is celebrated on July 18.
"We are humbled by the call for an annual Mandela Day in our honour. Our struggle for freedom and justice was a collective effort. Mandela Day is no different," said Mandela in a video message recorded for Mandela Day on Saturday.
"It is in your hands to create a better world for all who live in it."
Mandela Day will not be a holiday but a day devoted to service.
"It is our hope that people will dedicate their time and effort to improve the conditions within their own communities. We thank you for participating in Mandela Day," he said.
Nelson Mandela Day was instituted at the urging of the Nelson Mandela Foundation to celebrate his 67 years in politics, from his pivotal role in the anti-apartheid struggle, to his presidency, and finally to his work as mediator in peace talks and as an Aids activist.
Make your imprint and donate 67 minutes of your time on Nelson Mandela's birthday – 18 July. Mandela day webpage
<>Ubuntu – defined by the man Madiba, himself