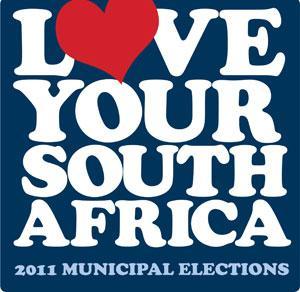 If you are unsure if you are registered to vote you can still check by sms'ing your ID number to: 32810, normal sms rates apply. Or call 0800 11 8000, voter registration status
Looking for voting results
Check your voter registration status to find out which voting station to vote at
Not sure how to get to your voting station? Find it with the interactive voting station map.
Call IEC call center on 0800 11 8000 for info
Candidate lists
The lists of parties and candidates contesting the 2011 Municipal Elections are now available:
source: IEC
Nanima's advise when voting:
When you vote remember you are voting for a party who will be serving you and a party you are employing(i.e if you pay your taxes). Vote as if you are hiring someone that will deliver and will be the best qualified to do the job. Someone that will have your best interests at heart. If you hire someone to work for you will you hire them because you like them or because they can do the job efficiently and effectively.
This is not a soccer match and you don't have be loyal and support your team blindly till the end of time.( you will never walk alone)
Choose the party you truly believe and are best qualified to  deliver houses, remove poverty, alleviate crime,  give us better education, health care.Vote for the party you think will benefit the country. Vote for someone you feel has the same values as you have.
If you are happy with the current state of affairs vote as you wish but if you want to see a change then carefully review the candidates and see who you will hire to serve you best. Vote for the party that will make the difference and the change you want to see in the world.
After you vote make sure you hold the ward councillors accountable for their promises especially when it comes to basic service delivery in the area like electricity, water, rubbish removal. Ensure competent people are placed in the positions and they do their jobs effectively and efficiently. If you were hiring someone to do work for you, you will make sure they do the job properly. After all your taxes are paying the salaries.
most of us are business minded people. being a taxpayer, here is your chance to hire someone that will look after your best interests. if u had a company would you just allow anyone to be hired, you will find the best skilled person for the job. once you hire them you will ensure they do the job properly and accountable. VOTE at IEC municipal elections
what i find very strange, you work hard for your money. you pay your taxes. yet you won't get involved in employing people to work for you. you paying the salaries, so should you not take part in getting the best person to do the job. as a taxpayer, your job does not end with voting. when you hire someone to work for you do you not follow up after, that they are doing the job they said they going to do.. you must must must follow up and make sure they are accountable for all the promises.. unforunately we can say we don't want to vote for this one or that one, we just want to complain and be negative, but truly never will Allah change a condition until you change yourself.. we need to really get out of blaming mentality, blaming the whole dunya for all our problems.. the reason your area is the way it is, you have tolerated it and allowed it and out of laziness done nothing about it but talk talk talk
we need to be more proactive and not reactive or inactive.. PROACTIVE and control our destiny
If you not voting,, agh just shoosh. no more complains.. ne' cos we tired of the all talk and no action mentality