As a muslim we are highly dependent on the lunar calendar. We are also dependent on sunrise and sunset. This book is a good way for me to understand these so I can more less anticipate when the new will will be born. Usually muslims are most worried about the moon sighting in Ramadan. Going through the sky guide gives me sort of idea when to expect fasting month to start and when we will have Eid. I hope the maankykers from Cape Town have joined one of these ASSA groups and have bought this book so they can also have a bit of idea when to expect these things. The book has a celestial almanac with star charts for summer, autumn winter and spring. Seems like the next solar eclipse will be on my birthday in 2026. There are some highlights this year when mercury will be seen best, All naked eye planets will be closest together. There will be total lunar eclipse in May and at the end of the year all 8 planets will be visible at dusk.
How you use the book:
It has a celestial almanac with interesting dates and times when certain things will happen. A quick guide to visibility of planets, moon phase highlights and dates for them and easy way to use sky maps. Sun rise and set times. Lunar highlights. Best to put reminders on the phone for all these astronomical highlights so they are not missed.
This is a great book for astronomy enthusiast with maps out some great sighting. I am sure it must be more exciting have this outer world experiences. We as family are always enjoying going to kruger and sighting the big 5. Seeing the big 8 here must be truly marvellous. This book maps out where exactly you would see all this and their times. With the sunrise and sunset times, moon highlights would be great to know these especially for those who need to use tides and wave which linked to the moon.


Sky Guide Africa South – 2022 is a practical resource for all astronomers, whether novice, amateur or professional. It covers the upcoming year's planetary movements, predicted eclipses, meteor showers – any events and facets of the night sky that change annually. Star charts plot the evening sky for each season, facilitating the identification of stars and constellations. The guide contains a wealth of information about the Sun, Moon, planets, comets, meteors and bright stars, with photos, diagrams, charts and images. An essential handbook for all night-sky enthusiasts.


About ASSA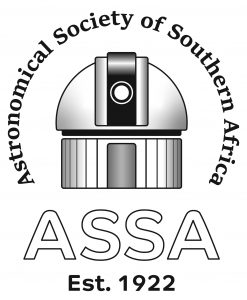 The Astronomical Society of Southern Africa (ASSA) [Constitution] is a body consisting of both amateur and professional astronomers. Membership [Join the Society] is open to all interested persons, regardless of knowledge or experience.
Shortly after the 1910 apparition of Halley's Comet, the Cape Astronomical Association was established (1912), with S S Hough, HM Astronomer at the Cape, as President. In 1918, the Johannesburg Astronomical Association was created, with R T A Innes, Union Astronomer, as President. In 1922 the two Associations merged to form the "Astronomical Society of South Africa".
more info https://assa.saao.ac.za/