If you are stuck of what to cook and have an ingredient in the house this book is your go to book. Quick easy recipes tried and tested by Jamie. There are 18 ingredients Broccoli, cauliflower, avocado, chicken breast, sausage, salmon fillet, sweet potato, Aubergine, eggs, mince potato, peppers, prawns white fish fillet, whole chicken, mushrooms, steak and not for us pork.. The key to cooking is being organised and planning your meals and having all your ingredients. This recipe book was made for us who don't know what to cook but don't want to spend a fortune and want to go in an out of the kitchen with minimal time but maximum benefit and taste. There is a pantry section that helps with the shopping list. There are many ways to cook brocolli for e.g Brocolli and tuna pasta, broccoli minestrone.. It is great to also have the energy and fat, protein counter at the bottom for those who are concious of calories counting. The cauliflower cheese pasta seems quick and easy. The strip on the side with the ingreideint make it visually easy for you to see if you have these things in your home. Seems like he follows are set strategy, similar recipes but different ingredients. It can be brocolli pasta or cauliflower pasta or chicken breast pasta or sausage pasta. So the core is the same but ingredients are different that makes dishes more versatile and different.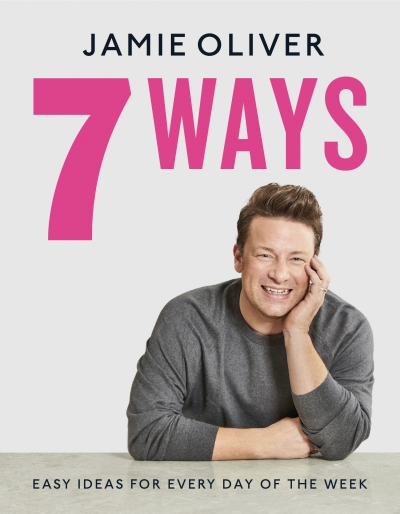 About the book: Completing the family of solution-based cookbooks. Jamie Oliver is back with new achievable, exciting and tasty recipes. Jamie's done his homework and looked at the top ingredients we buy week in, week out. We're talking about those meal staples we all pick up on autopilot – chicken breasts, salmon fillets, mince, eggs, potatoes, broccoli, to name but a few. We're all busy, but that shouldn't stop us from having a tasty, nutritious meal after a long day at work or looking after the kids. So, rather than trying to change what we buy, Jamie wants to give everyone brand new inspiration for their favourite ingredients, the kind of things you can pick up in any supermarket. Jamie will share 7 achievable, exciting and tasty ways to cook 19 hero ingredients, and each recipe will have no more than 8 ingredients within it. At least 5 recipes from each 7 way will be everyday options from both an ease and nutritional point of view, meaning you're covered for every day of the week. With everything from fake-aways and tray-bakes to family and freezer favourites, you'll find bags of inspiration to help you mix things up in the kitchen. Step up, 7 WAYS, the most user-focused cookbook Jamie has ever written.


ABOUT THE AUTHORJamie Oliver started cooking at his parents' pub, The Cricketers, in Clavering, Essex, at the age of eight. After leaving school he began a career as a chef that took him to the River Café, where he was famously spotted by a television production company. His television and publishing career began in 1999 with The Naked Chef series. Since then he has set up Fifteen restaurant in London, changed school dinners in the UK and revolutionized home cooking. His charity, The Jamie Oliver Foundation, seeks to improve people's lives through food. He writes for publications in the UK and around the world, including his own Jamie Magazine. Jamie lives in London and Essex with his wife Jools and their children.
Photograph © David Loftus