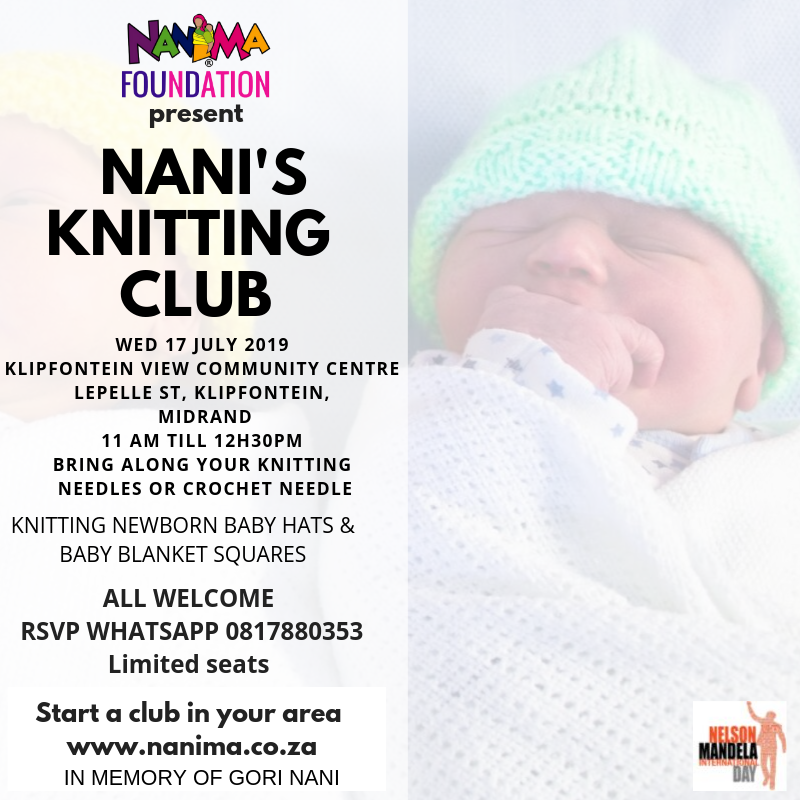 In memory of my Gori Nani -Zubeida Mohamed, around this years Mandela Day I am launching the Nani's Knitting club.
My Gori Nani taught me how to knit. I  remember her knitting and carrying her knitting bag around when I was young. She  use to knit from scratch  full baby suits and gift them to new born babies.They had hats, booties, jersey, the works.  We would like to let Gori Nani's legacy live on. I decided to start the Nani Knitting Club initiative.
On 17 July 2019 to commemorate Mandela Day before everyone else Nanima Foundation will be knitting baby hats and blankets at Klipfontein view community centre near Midrand just off Allandale. Please join us at 11am. Rsvp 0817880353 for address. Nb. Bring knitting needles or crotchet needles. In Memory of Gori Nani.
On another day soon after, we will take the Nani's knitting club to nearby hospital to deliver their newborn baby goodies to the babies themselves.

Special thanks to elderly at Klipfontein view community centre, Aunty Helen and the NIzamiye Women Platform for participating in the first Nani Knitting Club. 
Nanima Nizamiye Knitting Club
Alhamdulillah we distributed on youth day 2020 beanies that were made with lockdown love by the Nizamiye Knitting Club. Special thanks to the Nizamiye Woman Platform and all the knitters and those that contributed wool and their time.

Learn How to Knit
Click on this link to learn how to knit with my late Gori Nani