TOP 10 NANIMA MEMORIES
1. Evolution of the Nanima website
2007 –  Launching website and concept on 8 June 2007 when by brother came home with idea of starting website for bored housewives to start assisting working mothers and start the Nanima website.
We started of initially with a word document that we published on the web. Thereafter Madala created a simple HTML page and then a more complex one. Beautiful but a bit difficult for me to update easily. We started mainly with an email newsletter that was going out weekly. I knew niks about web development and following people and researching on the internet I managed to learn web development and social media. Thank you google and Ask Madala for all their help.
Word document version of the website – That trade mall meet and greet was great.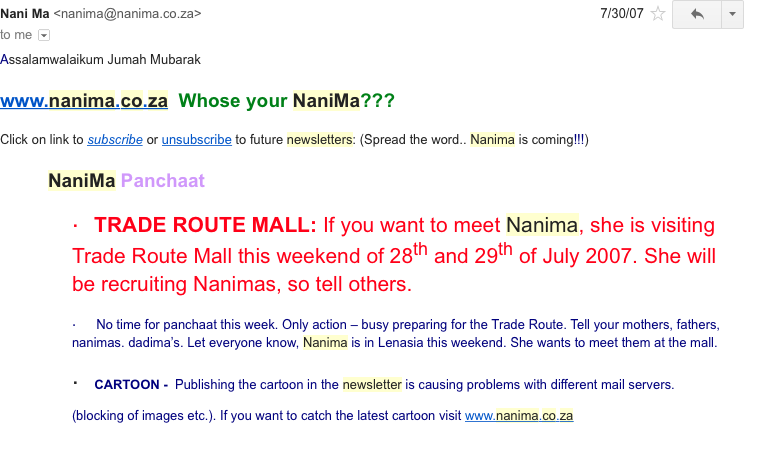 HTML VERSION
Updated HTML version – Pinkie Website – Pinkie was a time consuming way and very easily to break website as you did everything in html code. Not for the un detail orientated person. Poor Madala always had to be on stand by as I was changing the website on the live system.
Nanima WordPress
We then changed to wordpress which was visually better and have not looked back as it has a wealth of features that we could use. We have a directory, classifieds, online shop and recipe directory and a forum.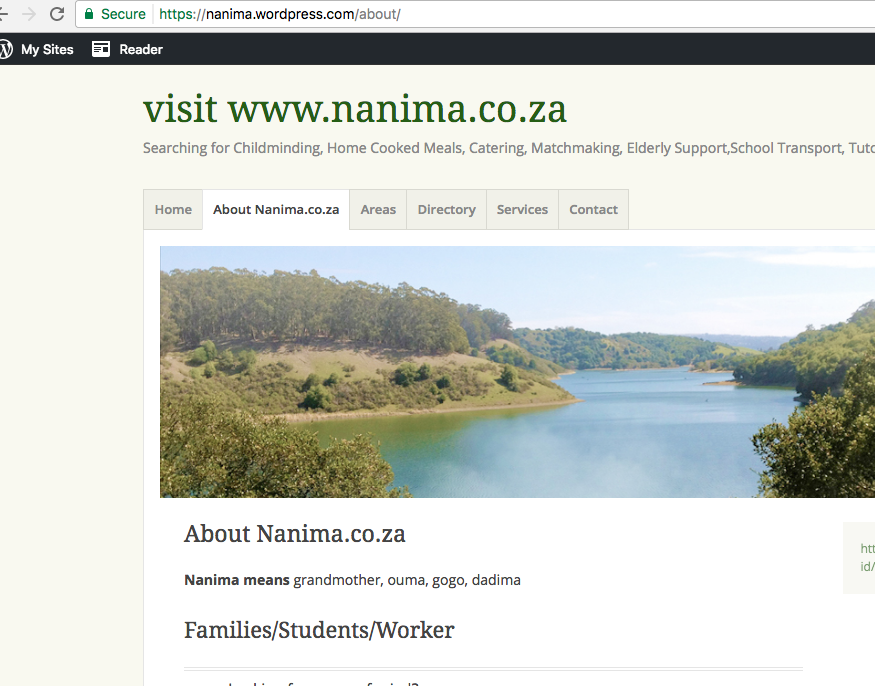 Current website 
Logo and Facebook
Logo was designed and I was looking for a proudly South african concept, colourful ndebele art and lady with child on the back. Shailen from  Orb8Arts  did an awesome job at creating what I had in my mind beyond my expectations.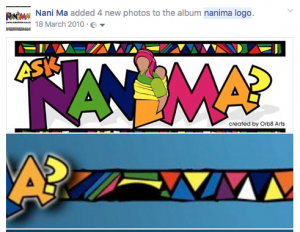 We became popular on social media once we created our logo designed by and started talking about mugh and churi churi roti. This is when we became Ask Nanima? A place where people ask their questions about things they need, recipes, parenting.
 Special thank you to Ask Madala and Naeem Mayet for assisting us with newsletter mailing and guiding us all the way regarding web development
Join our facebook page with 180000 other people at this stage and our 8000 strong group that is growing daily. visit our website. 3 million views to date.
2. Nanima Home Industry Expos
2. 2011 – Nanima Home Industry Expo in Emmarentia – Special thanks and may Allah reward  Aadila Tootla infinitely for heading the first official event. Many schools, masjid have benefited from this as a fundraising event. Alhamdulillah many Home industry breadwinner businesses have also gained exposure through this forum.    To date we have had 16 expos in Lenasia, Nizamiye, Durban, Robertsham and more. Expos are impossible without the hard work and dedication from my team i.e my family and helpers. Especially my parents and Madala. Thank you to Taahira Rubidge from RDLB for the poster designs.
Unbelievable crowds attended the Emmarentia expo.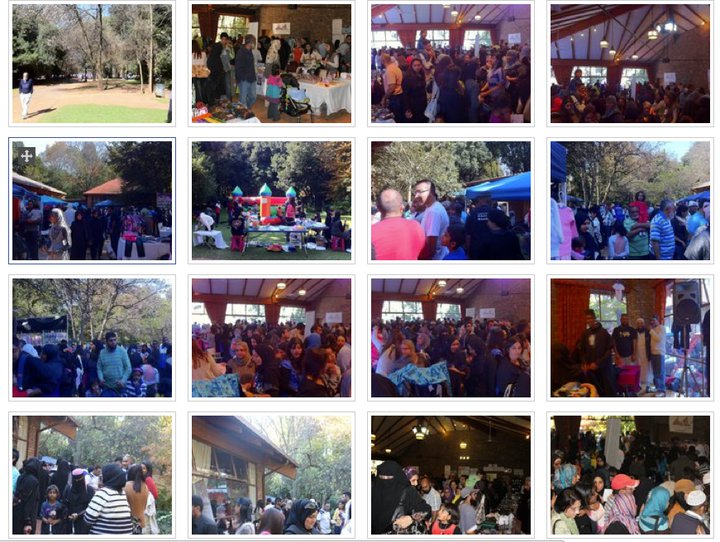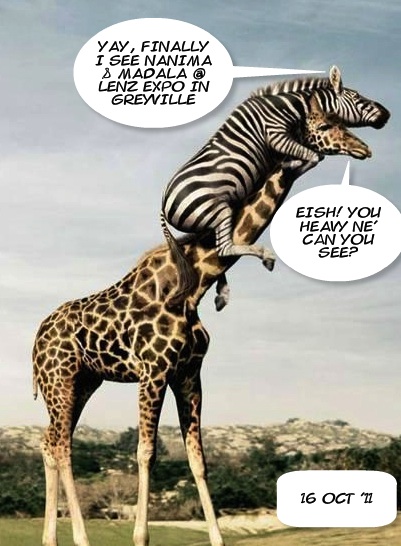 3. Surviving by Asmaa Khan Book Launch
March 2014 Self publishing our first book  Surviving by Asmaa Khan. Thanks to Asmaa Khan for being brave to let us self publish. Printed and Sold about 1000 copies of the book surviving. What an incredible experience publishing a book. Editing, typesetting, printing, publishing, launching.  Self taught. Thank you google again.  Special thank you to Taahira Rubidge from  RDLB for typesetting and Saaleha Idrees Bamjee from Shootcake for the cover. Amazing story that got everyone hooked. A feel good story about how you can come out of the worst circumstances in life and still be a winner.


4. LUNCH DATE COMPETITION
This was our own version of a cooking competition.   Lunch Date competition – Special thank to all our contestants and judges especially Saaleha Idrees Bamjee from Shootcake  for photography and judge  taste testing.Taahira Rubidge from  RDLB for poster. Shazia Motan, Humaira Meer Hansa, Zakkiyya Khan and our winner Hawa Surtee. Thank you contestants for the lekker chow and letting us into your homes and all the hospitality  we received.
See all episodes here Lunch Date 2012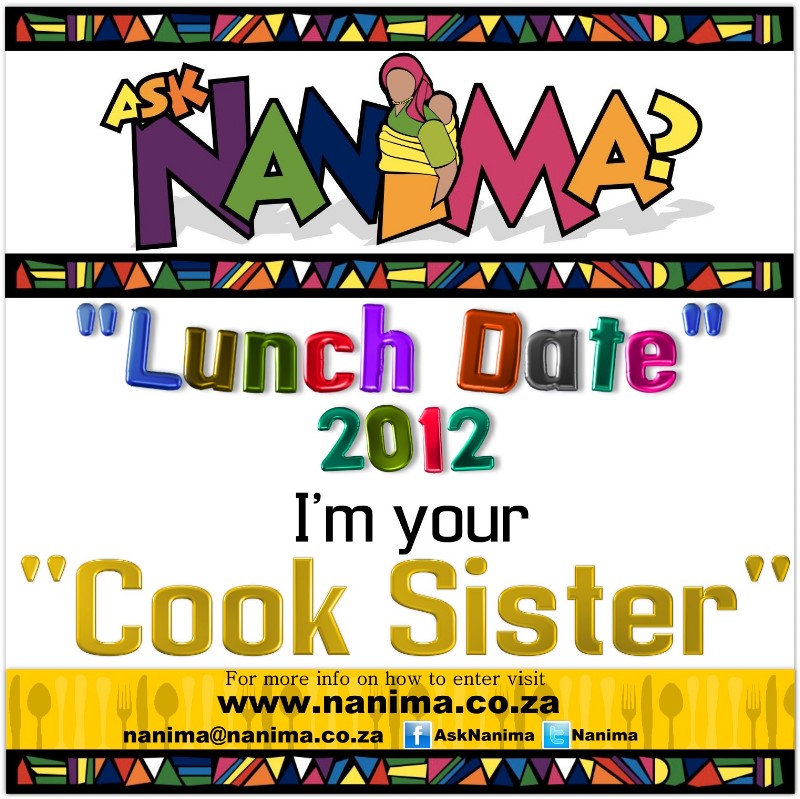 5. Baking  Tannie Competition
April 2013 – Baking tannie competition – Special thanks to the contestants and big thank you to Lila Bultel our judge. We managed to courier baking from the entire country and have a great baking competition.
Winner Tasnim Jadwat Casoojee
Baking Tannie Finalist – Tasnim Jadwat Casoojee- Bon Bons et voila
6. Charity Projects
Cover Me campaigns – Blanket drives and Ramadan hampers. This year we reached 100 recipients.  Grasmere Masjid Makeover. Operation Shifa – for the eternal rewards for Nasreen Koor by beloved friend her son. Where we tried to collect money for life saving operations.
Winter warmers blanket campaign
Operation Shifa
Assisting parents raise funds for life saving operations. My beloved friend started this initative for Luqmaan and Ilhaam and after she passed away we tried to leave her legacy by assisting parents in similar situations.
A day to day introduction to good deeds. Thank you to Productive muslim for assisting with launching this and Taahira Rubidge from  RDLB, Afrah and Hina for the designs.
Grasmere Masjid Makeover
Ramadan Hampers
Special thank you to Masha Arnold and Ashraful Uloom for all assistance regarding ramadan hampers.
7. eToyitoyi – Report Good, Bad, Ugly Service delivery –
we are tired of the terrible service delivery protests. we were looking for a proactive way to solve service delivery issues. teh biggest barrier we found is the lack of communication. We tried to bridge this gap. this can still revolutionise service delivery in the country. we are looking for street level active citizens to join this movement. Thank you to Hasina Patel for the logo.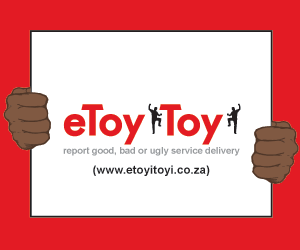 8. Confessions of an Addict by Mumtaz Moosa Saley
showing us the real side of drug addiction narrating a true life story anonymously. What a roller coaster of emotions doing this project. Special thanks to Mumtaz for writing this story and highlighting such a problem we are currently facing.
The main reason I embarked on this Confessions of an addict journey was to highlight drugs and abuse in our society. When I read Mumtaz blog, I contacted her and found out more about the story. What intrigued me was that most of the story happened to someone. This was someones reality. I wanted to help Mumtaz promote her blog and I wanted to tell this story. I went into this project blindly and unfortunately for us Mumtaz's hard drive crashed and she lost the entire story. It was a bit late to cancel the blog as many people were hooked to the story and needed their daily fix at 10am daily or we were getting death threats (joking). It was extremely challenging to get the blog posts to meet the deadline as both Mumtaz and I had also families to see to. Also as my grammar is not the best it was a daunting task to fix up this blog upto standard.
9. Samoosa Run
 – Fast and furious samoosa filler in Johannesburg

It was lots of fun to see all the ladies competing to be the fast and furious samoosa fillers of Joburg. It was very cute.

10. 2017 Nanima foundation
April 2017 official-Becoming non profit organisation with Public benefit organisation status. We have section 18 status.  Ask Nanima is also a trademark. As our first official fundraising event we had the expo at Nizamiye Masjid. Funds were raised for our Ramadan hamper campaign and for the masjid. We have lots of exciting charity projects we are embarking on. we would like to focus on  Education, Empowerment, Environment and Enlightenment InshaAllah. With a team like Uncle Yaqub Mehtar, Masha Arnold and my family we are inshaAllah heading for great things to come. We ask Allah to grant us barakah. Grant us sincerity and accept our efforts inshaAllah.
Special thank you to Ask Madala, my parents, siblings, in laws, friends, cousins, uncle and aunts, colleagues, matchmaker, agents, nanima foundation team and anyone I may have forgotten.  Special thank you to my daughter bachoo and son Poiroo. Let us not forget my own nanima who inspired us with her story to start this website.
Most of all thank you to the audience for helping each other and helping us grow on this amazing journey.
May Allah reward you all infinitely and accept all our efforts.