7/12/2016
The last 100 tickets are released. Please contact an agent near you. number below.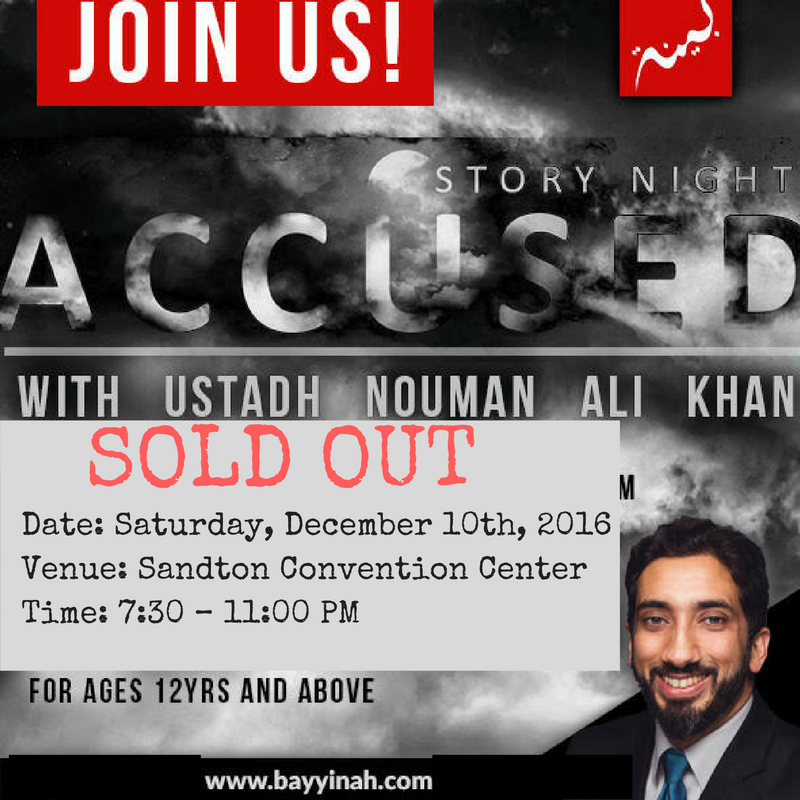 We are so excited. For the first time South African audience will be able to attend a talk by Nouman Ali Khan live. There are limited tickets available. Book now. Complete the form below
Date: Saturday, December 10th, 2016
Venue: Sandton Convention Center
Time: 7:30 – 11:00 PM
Price: R300
TICKETS ARE SOLD OUT – LEAVE INFO IN FORM BELOW TO BE ON WAITING LIST

Ticket Pick Up points
Online tickets – SOLD OUT
TICKETS SOLD OUT IN 3 DAYS – COMPLETE FORM FOR WAITING LIST 
Johannesburg:
Amina – 0747861700
Pretoria
Hafsa – 0823033129
Polokwane
Nazreen – 0825011707
About Story time:  Accused
Bayyinah institute presents – Arguably the most painful episode in the messenger's life consists of the number of weeks during which the dignity of his beloved wife, our mother Aisha (RA) was brought into question. As rumors took Madinah by storm, they demoralized the Muslims community and did more damage than could ever be inflicted on the battlefield. Yet this terrible time was part of Allah's grand plan to bring the faithful out of this darkness back into the light.
To do so, Allah revealed His brilliant words in the Surah of Light that not only brought relief to the prophet (S), his family and the faithful (R) but became a source of powerful counsel for the faithful to come until judgment day. Join Ustadh Nouman Ali Khan as he attempts to have us relive this powerful story in light of the ayaat of Surat al Noor.