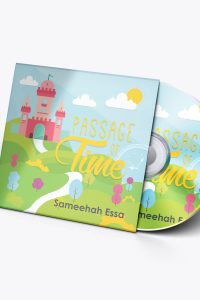 I was amazed to see Sameeha Essa all grown up at the Eid festival and even more amazed to find out that she is now a Nasheed artist, launched her CD Passage of time. Sameeha is 9 years old,  similar age as my daughter. I met Sameeha and her mother Anisa at mum and tots in Mayfair when the littles ones were still in nappies. It is amazing what can be done if you have a supportive parents especially mother Anisa who helped compose the lyrics . This Ramadan we will be having a competition and we will ask questions relating to the lives of the prophets in the spirit of the theme of the Passage of time CD. All correct answers will be entered into a draw to  stand a chance to win a passage of time CD on Eid day.
The CD is very cute to listen to the stories of the prophets for all the smallies to learn about the prophets.
You can listen to sample, buy or download of the CD on CD baby or find in a local South African Islamic bookshop country wide.
Competition time
Visit Ask Nanima facebook page to stand a chance to win a cd this ramadan

Listen to Muhammad(SAW) nasheed on Soundcloud
Butterfly Radio Islam Interview
My name is Sameehah Essa. I am now 10 years old. I attend Auckland Park Academy of Excellence (APAX).
I love singing, baking and doing anything creative. My favorite colours are green and purple and my favorite food is pasta.
I got into singing about two years ago. It was just something that I always loved to do. The first song I sang was from my album Dawood (A.S). It was at a mass iftaar in Ramadaan 1436
After singing at a charity event my mum contacted my producer and that's when my journey began into making this CD. It started out as a fun project… something that I did with my mum on Saturdays.
Over a period of one and a half years, I completed my first Cd titled Passage of Time' and its all about the prophets of Allah.
The best advise that I have been given is to never give up, always persevere and remain positive. My message to other children is "if you can dream it, you can do it"
My Cd is available at Cii stores and Lotus Bakery (Protea Ave) in Lenasia; Iqraa bookshop in Laudium; Al-Ansaar Booskhop in Durban; Al Ahsan Apparel, Ummah Heart madressa and Nanas booklshop in Fordsburg; Hamzah halaal and Eastern temptations in Emmarentia; Montessori Kinderagarten in Azaadville, Joosub Essa in Rustenburg.
For further enquirers please contact us on passageoftime.info@gmail.com
More info about the passage of time 
Passage of Time" Islamic music (An-nasheed) CD by Sameehah Essa reveals journeys of the Prophets.
Nine year old Sameehah Essa from Greenside, Johannesburg, has launched an Islamic music (An-nasheed) CD entitled "Passage of Time", which is a CD encapsulating a brief glimpse into the lives of some of prophets of Islam.
Blessed with a gifted voice she has produced the CD under the guidance and support of her mother, Anisa Essa, and well renowned arranger/producer Jeremy Karodia. "I have been involved in producing Islamic artists both locally and around the world but I have never, as yet, been involved in producing an artist who sang about the various prophets of Islam. This was an eye opener for me because over a year and a half we had to research the history and facts about the prophets and their contributions to Islam. In the process I have been privy to see a shy young 8 year old grow into a confident yet humble 9 year old whose voice is certainly a blessing to listen to. I am very proud of her achievements and her dedication to her project" said Karodia.
The theme of the songs is centered on a number of factors including the positive contributions of the prophets of Islam, their kindness and humility as well as their dedication to guiding the Muslim society to live with the correct Islamic principles. Although the CD is not only aimed at children, it is an ideal way to teach young children, in a fun way, about the beloved prophets of Islam.
When asked about her experience, Sameehah said "My dream of making my own an-nasheed CD has finally come true, through the will of the Almighty. This wonderful experience has taught me so much. Most of the lessons which I have learnt have been achieved through the knowledge I gained whilst researching the lives of the great Prophets. Our Prophet Muhammad (Peace Be Upon Him) is my complete inspiration. My goal in life is to strive to live a life just like he did. By way of his character, he set an excellent example for us to follow. Simple qualities like being honest, kind and trustworthy earned him love and respect from all. I hope that you enjoy listening to my CD as I much as I enjoyed making it."

Click on pic to get a preview of the cd