Please note as it is Jumuah no business is allowed during the Jumuah Khutbah time and salaah time. All shops will be closed for this period of time.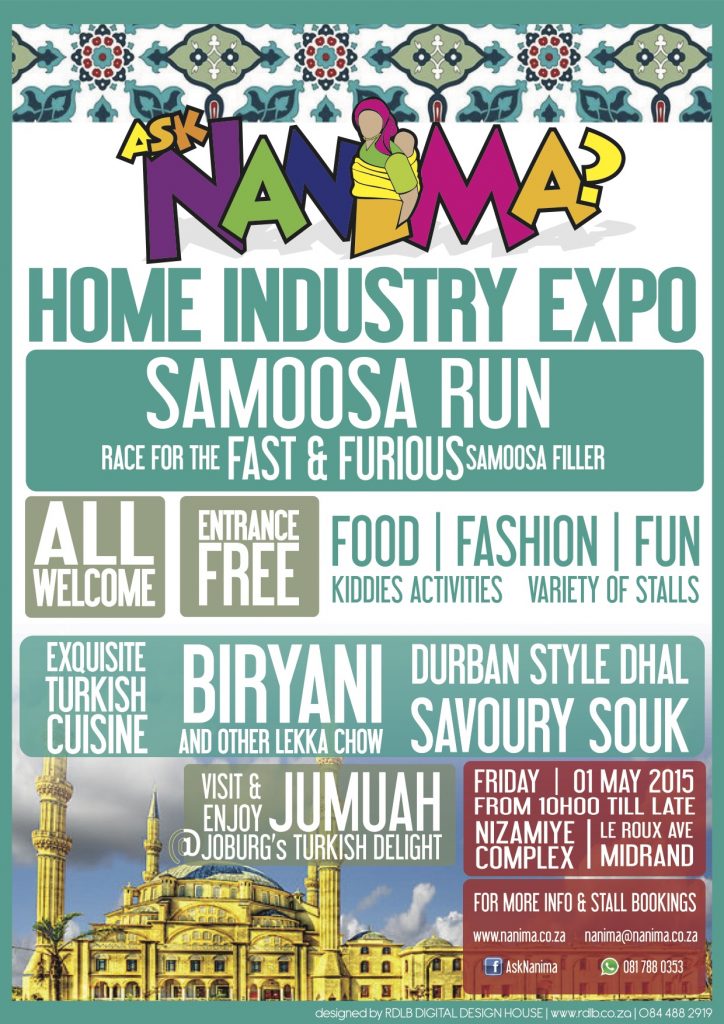 THE SAMOOSA RUN
Who is the fast & furious samoosa filler in Jozi?
Bring all your nani's, dadi's, khalas, masies, brothers and sisters to come and enter the race to the fastest samoosa filler in Jozi?
READ CAREFULLY
Please complete application form below. Completing form below does not mean your stall is booked. We will let you know if your stall has been approved. Once stall is approved you have 24 hours to register i.e send signed registration forms and make payment to ensure your space is booked. Certain companies like AMC, tupperware etc only allow 1 stall per event. Stalls may have similar items.
No drinks or beverages will be sold. All food, baking  application have to go through a formal approval process.
Prices 
Handmade 1 table size ONLY or 1 table stall, you are not allowed to bring extra tables– R250
3mx3m stall – R500
food stall – negotiable
All stalls come with 1 table
Successful Exhibitors
Once your application is successful and you have registered we will send  you all the exhibitor info.
All exhibitors Please bring your own chairs and your own gazebo and 4 bricks to tie it down as it is outdoors on concrete
Handmade stalls or 1 table  please bring an umbrella and something to ensure it stands like a drum or bucket of sand to ensure you have shade.
Extra table is R50 or you can bring your own
electricity will not be provided due to risk of loadshedding and difficulty to get electricity to stalls, complete the form for electricity and we can try and negotiate for electricity.
If you can't see the form click here on the link May 2015 Nanima Home Industry Expo
If you are unable to complete form ONLY call or whatsapp 0817880353 between 9h00-14h00 for help
EXPO APPLICATION FORM