I can't still understand this GazaUnderAttack. Why are ordinary civilians being killed in the name of self defense.  This babie's mum was pregnant when she was killed. When the mum arrived at the hospital, they felt something moving and this baby was born in an emergency caesar.
Latest 30 July
To Allah we belong and to Allah is our return.
A Palestinian baby who was born after her mother was killed in an Israeli attack in Gaza, has also died.
The premature baby girl was born in an emergency Caesarean operation after her mother was killed in an Israeli airstrike on Sunday.
The 23-year old mother, Shayma al-Sheikh Qanan, was eight months pregnant but died in an Israeli air strike in the central Gaza Strip town of Deir al-Balah.
Having survived the Israeli onslaught at first, the girl, named Shayma after her mother, also died after three days on Tuesday.
The Gazan 'miracle baby' who was saved from her killed mother's womb has died in an incubator in a hospital, suffering from power shortages inflicted by Israeli strikes. Hospitals now hope that a brief truce will ease the humanitarian disaster in Gaza.
The world continues to mourn the death of the Gazan "miracle baby", who died in an incubator in a hospital that is suffering from power shortages inflicted by the IDF bombardment.
Prematurely delivered from the womb of her dead mother, the "miracle baby" Shayma died in Khan Yunis hospital in southern Gaza after five days of fighting to stay alive. She died in an intensive care unit which suffered blackouts after Israeli shelling knocked out Gaza's only power station.
Dr Fadi Al-Khrote, one of the doctors who saved the baby, told Al-Jazeera that Shayma's mother, 23-year-old Shayma al-Sheikh Qanan, had been clinically dead for ten minutes before the surgery to save the baby finished. The child was a "miracle", he said, as the baby was deprived of oxygen for some time
The baby suffered an oxygen deficiency in the womb after her mother's heart stopped," Dr Abdel Karem al-Bawab, head of the maternity ward at Nasser hospital, told AFP Thursday, adding that Shayma was connected to a respirator in the maternity ward.
"This deficiency caused the baby to asphyxiate unexpectedly, rendering her brain dead," he said of the tragedy, which struck this Wednesday.
"The ongoing electricity shortages played a role because her oxygen tubes did not work properly and we had to resuscitate her more than once manually."

Shayma's death, who according to reports was buried next to her mother, follows Tuesday's destruction of Gaza's only power plant leaving many of the Palestinian territory's 1.8 million people without electricity.
source: RT
29 July 2014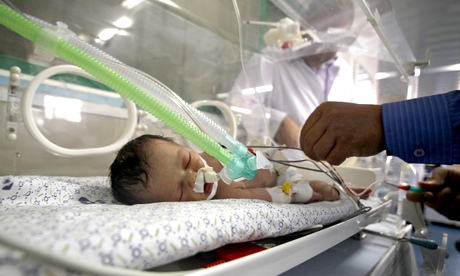 When the doctors gently pulled the tiny newborn from her mother's womb in an emergency Caesarian section, the woman had already been dead for an hour.
Twenty-three-year-old Shayma al-Sheikh Qanan was eight months pregnant when an Israeli tank shell hit her home in the central Gaza Strip town of Deir al-Balah, reducing it to rubble.
She was left in critical condition and her husband, a local radio journalist, was also badly wounded.
"Her body was brought in after an Israeli shelling at 3:00 am on Friday," said Doctor Fadi al-Kharti, who was at Deir al-Balah hospital when she was rushed in.
"We tried to revive her but she had died on the way to hospital."
Before paramedics managed to dig her out, she had been stuck under the rubble of her home for an hour.
"Then we noticed movement in her stomach, and estimated she was about 36 weeks pregnant," he says.
Doctors performed an immediate Caesarian section and saved the baby, who was named after her late mother.

For 43-year-old Mirfat Qanan, it was a tragedy to lose her daughter, but she was delighted at becoming a grandmother for the first time.
"God has protected this child for me. My daughter Shayma is dead, but I now have a new daughter," she said.
"She'll call me 'mummy' just like her mother did."
For the time being, the tiny baby was being looked after in the intensive care unit in another hospital in Khan Yunis to ensure her survival.
Just four days old, she was breathing through at an oxygen mask in the hospital's maternity ward.

– Joy pierced with grief –
Abdel Karim al-Bawab, head doctor at the maternity ward, said staff were keeping a close eye on the baby to monitor her condition.
"The child is in serious condition, and needs to be constantly hooked up to a breathing machine since she was oxygen-deprived between her mother's death and her birth," he told AFP.
"Her vital signs are stable, but she must stay here in this state for at least three more weeks," he said.
Qanan's eyes filled with tears.
"She had really been looking forward to being a mother," she said, her voice cracking.
"What did Shayma do to deserve to die and lie under rubble for an hour without being recovered?
"What did she do to Israel to make it destroy her house on top of her without any warning?" she asked.
"She was just a young wife who had only been married a year."
Relatives said F-16 warplanes had fired two missiles at the house which was located in a densely-populated neighbourhood.
Israel began a crushing military operation to stamp out rocket fire and destroy tunnels used by militants to infiltrate southern Israel on July 8.
In the ensuring three weeks, more than 1,050 Palestinians have been killed and over 6,200 wounded.
UN figures show more than three quarters of the victims were civilians, among them more than 230 children and around 120 women.
In Israel, at least 50 people have been killed, most of them Israeli soldiers killed in the fighting in Gaza.
Source: -AFP