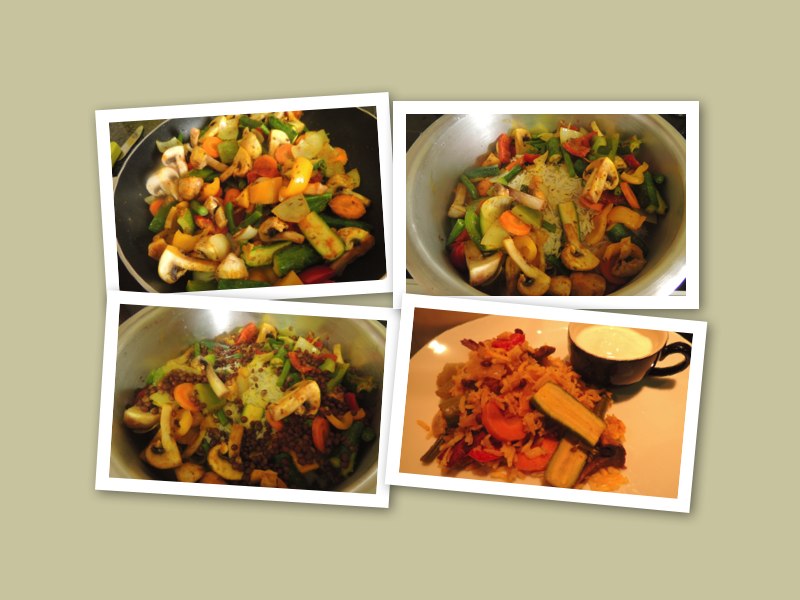 A Pilaf a dish where rice is cooked in a seasoned broth. The rice takes on a beautiful brown colour by being stirred with bits of onion, vegetables, meat (if you prefer) and a large mix of spices. Although a traditional pilaf uses uncooked rice, i prefer giving my rice a 'slight' boil in unsalted water. The reason for using unsalted water is because i use a whole or a half piece (depending on how much vegetables and rice you are using) of vegetables stock to flavour my Pilaf.  You can add chickpeas, beans or brown lentils to lower the GI of your meal. It is then steamed/ baked in the oven and because it is stirred through to mix all the spices, you can check on the bottom of the pot to see if the rice is burning or not. Colourful, tasty, quick and bursting with flavour and colour is this Jumua meal. It is packed with seasonal vegetables giving you lots of fibre and nutrients needed for a healthy diet.
Ingredients:
1 1/4 cups Basmati rice, Boiled in unsalted water, drained and rinsed
1/4 cup brown lentils
3 Tablespoons canola oil
Vegetables:
– 1 whole brown onion cut into chunks
– 4 baby marrows, cut half lengthways then halved
– 2 large carrots, sliced
– 8 mushrooms, quartered
– 15 green beans, ends removed and halved
– 1/2 cup of each tri -colour peppers, cut into chunks
Broth:
– a good pinch of saffron
– 4 cinnamon sticks
– 4 cardomom pods
– 4 cloves
– 2 teaspoons cumin
– 3 teaspoons fine coriander powder
– juice of half a lemon
– 1 1/2 teaspoons fine ginger
– 1 teaspoon minced garlic
– 2 teaspoons red chillies (depends on how hot you want it)
– 2 bay leaves
– 1/2 teaspoon mustard seeds (roughly crushed)
– 1/2 a cube vegetable stock
Method:
– Heat your oven to 180 degrees celcius.
– In a wide bottomed pan or a wok, heat 2 Tablespoons canola oil. Once heated add a teaspoon of cumin. Once aromatic add the onions, peppers, marrows, carrots, mushrooms and green beans. Stir well after each addition. Stir fry until the vegetables are 'sealed' and lightly browned. See the top left picture for browning.
– Heat an oven safe pot on medium heat. Add the spices and 1 T oil stirring well so that the spices become aromatic but do not burn. Add the Saffron and 1 cup water.
– Once boiling, throw the rice into the pot followed by the vegetables and lentils. Stir well so that the spices,, rice and vegetables are well combined.
– Close the lid and let the mix cook for ten minutes on low heat.
– Open the lid and stir once more. Check for any water at the bottom of the pot. You can add upto another cup of water depending on how fluffy you want the rice.
– Seal the pot with heavy aluminium foil and steam in the oven for 30- 40 minutes. Check every 20 minutes to ensure the Pilaf is steaming. You can stir the Pilaf at each check.
– Serve with fat free yoghurt and a fresh salad.