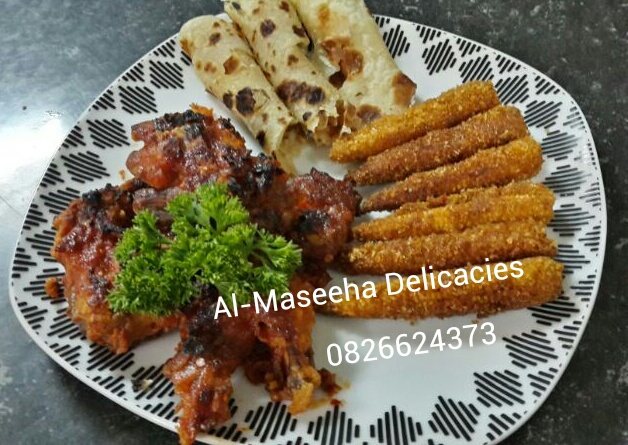 Hot Sticky wings
Perfectly tender, spicy and juicy, these world-famous and delicious wings are one of my firm favourites! I prefer oven-frying these (which basically means I bake them on a greased tray and lightly spray or brush oil over them) as opposed to the more common regular frying, so they are relatively healthier without any compromise on the amazing taste!!
Recipe:
500g chicken wings, cleaned and divided into flats and drummetes
Marinate the wings in half tsp each of salt, pepper and chilli powder, 1 tbsp tomato sauce/ketchup and 1 tbsp oil. Cover and refrigerate for at least 2 hours.
When ready to cook, preheat your oven at 180 C.
Take a big plastic bag, add half a cup of allpurpose/plain flour into it. Drop the wings into the bag in 2-3 batches, and shake until the flour coats all the wings perfectly.
Remove the wings and place them on a greased tray. Lightly spray the wings with some oil. You can also use a brush and brush the wings lightly with oil.
Bake for about 25 minutes. Remove and turn the wings. Put them back in the oven and bake for another 25 minutes.
Whilst they are baking, prepare the Buffalo sauce. You will need:
4 tbsp butter or oil
1 tbsp honey or brown sugar
quarter cup of ketchup
quarter cup water
2-3 tbsp of hot sauce/chilli sauce
half tsp cayenne pepper or chilli powder for extra hot wings
half tsp garlic paste
1 tbsp vinegar
salt to taste
Heat the oil or butter. Add garlic and stir fry until fragrant. Add all the other ingredients and simmer until thick and saucy. Adjust to your taste and consistency.
Once the wings are ready, toss them in this sauce and then spread them out on the tray for a few minutes to absorb the flavour and cool slightly.
Serve and Enjoy!! :
Baby Corn Finger Chips Recipe
Baby Corn Finger Chips are a refreshing and healthy change from potato chips. Learn how to make/prepare Baby Corn Finger Chips by following this easy recipe.
Preparation Time: 20 Minutes
Cooking Time : 15 Minutes
Difficulty : Easy
Rating : 10.0
Recipe Type : Veg.
Serves : Serves 4
Ingredients:
10 Baby Corns
1 tsp Ginger-Garlic Paste
1 tsp Green Chilli Paste
½ tsp Pepper
1 Egg
½ cup Bread Crumbs
1 tsp Wooster sauce
How to make Baby Corn Finger Chips Recipe
Mix together ginger-garlic paste, green chili paste, pepper  and wooster sauce.
Marinate baby corns in the above mixture for 30 minutes.
Deep fry in hot oil.
Serve hot.