I was fortunate to have been gifted the OYouSA ticket by my sister, Farzana,for the Oprah event in Jozi on Monday. When the tickets were bought I wondered it is the festive time, and yes we all hoped, we can hope right… " you get a car, you get a car" lol.. wishful thinking..  What I found strange was that alhough this  was on a Monday morning  the place was packed to the brim.  I know I had to ask Madala to look after the little one and was wondering if others mothers were in the same boat especially those mummy taxi types that had school rounds.
We entered the hall, got our stationary and breakfast. I loved that the people who were there were from all walks of life. All in our diversity but facing the same issues.   We went straight to the book stand, fuzzi loves reading  so we parked there till the show was about to start. After chit chatting with Dr. Mampele Rampele and talking about  the possibility of the first woman president of South Africa, we took our seats.Dr Rampele  in the short space mentioned how people at grass root level are fed up.  Will they be fed up enough to make the change? that is my question. She said  we must speak to everyone around especially our helpers and ask them do they want change they need to make the change.  I wonder if a woman president could be the answer we need in South Africa to clean up the place. I really like  President Joyce Banda from Malawi and her approach especially to wastage and corruption in her government. Maybe this is what South Africa needs?
I should have asked her about the name? why Agang?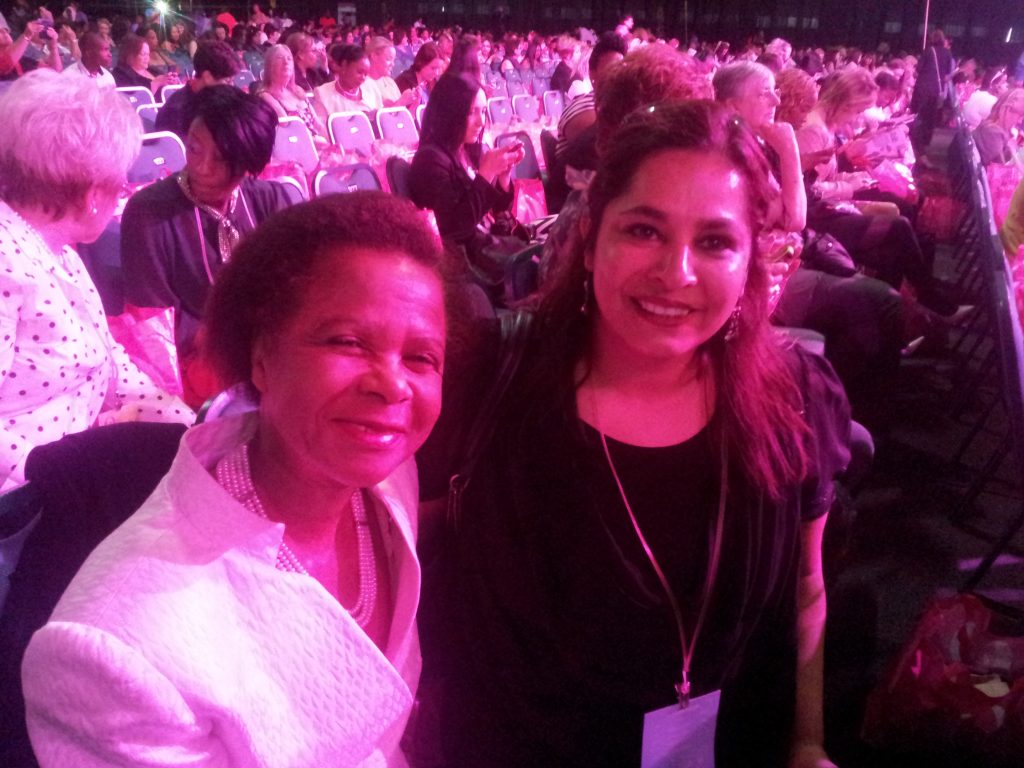 Dr. Mampele Rampele and Farzana
Oprah effect
so as we got seated everyone was going through the goodie bag to see if the money spent was worth it even before the show started. After seeing the Mangwanani voucher  for 2 people we all sighed in relief, worth it already. the Oprah effect is alive and well . It baffles me though, I hosted a 3 day workshop called Discover Yourself that was MAHALA, that truly changed my life and many peoples lives,  to convince people was a huge mission. I got only 50 people to attend. I was amazed that Oprah basically speaks for 1 hour and people pay thousands and come from far and wide.   the Oprah effect is alive and well .. although short and sweet, the lessons learnt were powerful and priceless. You could really feel the positive energy.
My Question to Oprah?
I couldn't think about any questions to ask Oprah that day. But as I thought about it. I wondered would Oprah run for president in South Africa and does she think she will win? Being part of the South African society how would she change the face of service delivery in the country? How can we as a society change the crime, drug, Aids problem we are facing?
Oprah is in the house
Oprah had a tough life. Grand daughter of a domestic worker, being raped and molested, pregnant, losing a child. She was truly rose above all her challenges. I liked when she talked about how she will never use her platforms to humiliate others or let others use it for things she does not believe in. She asks the questions? How will I be used for the greater good. With Oprah Academy in Henley on Klip, she has a vision to empower girls that were in a similar situation like her and give them a head start. she wants to make them leaders and she wants to create a sisterhood amongst them. When answering questions what I found valuable is that when you doing something make sure you surround yourself with a great support structure and the best people for the job. Have a vision and vision bigger than making money. Build a good support team with a good track record that know how to get things done. A toxic person takes everyone down. Check your energy before you enter my space.
Some other lessons learnt were Gratitude, being still and when you don't know rather don't do anything, don't care what others think and be responsible for your energy. How will you be used to do the greater good?
Crowd reaction when Oprah enters
Oprah talks about the greater good
#OyouSA- Arianne de Bonvoisin lessons
Change is constant.
What is your body telling you that you are not acknowledging.
Change management is a life skill that we must teach all our kids.
Drop the stories and the inner critic. take the 24 hour disapproval challenge and don't say anything critical about yourself.
When doing something as why? the how will come
When you compare = despair
Have a change resume
if you are feeling overweight and although you try your best to shed the weight. see the emotional baggage you are carrying that you may need to shed.
have quiet time daily
When you feeling toxic energy give to thers
you are spiritual being living in a material world. You can live in both.
take care of your health
Find your passion, serve and give
#OyouSA- Redi Thlabi lessons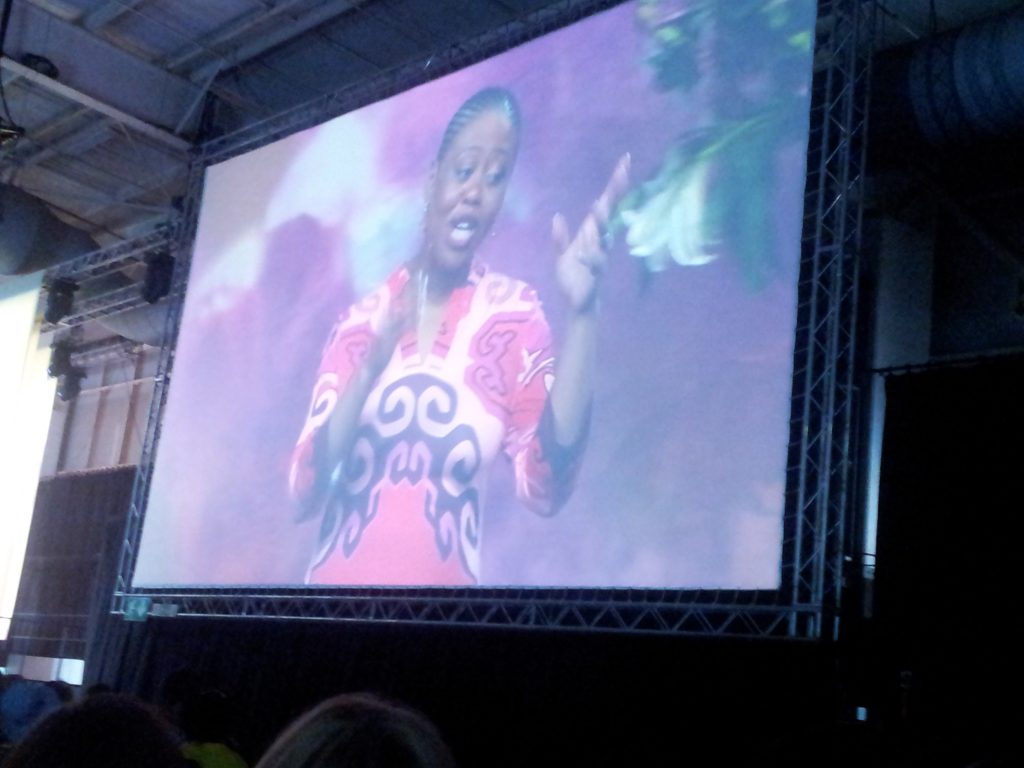 sometimes you just need to blow that inner vuvuzela to block out the negative noise
you can't build happiness on someone else's misery
Redi on being to seriaas and not dealing with death of father- Afrikaans teacher tells her "Redi, jou pa is dood nie jy nie"
Live in the lightness of being, laugh
husband said that won't allow the daughters to dim their light to make their man look more powerful
make an appointment with pain, talk to it and after you done tell it  "f" off..
Past belongs in the past
Forgive yourself, love yourself and treasure yourself
Redi speaking to her child Neo who is 6 days old in the morning, "Neo, I have to go, you will be the first 6 day old that will say no to Oprah"
#OyouSA- Julie Morgensten Lessons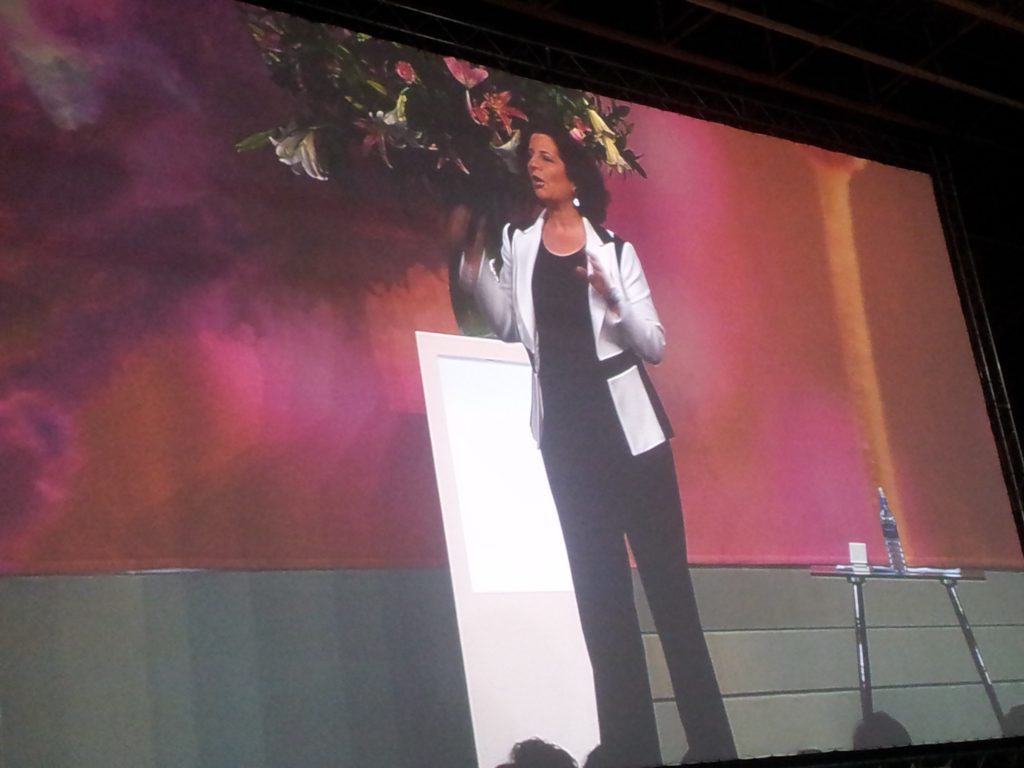 If life to full, make space for change from all clutter. Clutter in your time, head, actions. No space to even think.
organising is not decluttering. organising makes things more efficient.
 SHED – Separate the treasures.   Heave the trash  3. Embrace your identity and 4.  Driver yourself forward.
Identify what you hanging on to when you keeping this item.
Don't toss everything and build from scratch.
How often have we acquired stuff and are not useful.
What stories are we telling ourselves regarding the things we acquire. collecting cooking books and not using them but had to get rid of it because the story it was telling wanted to be a better mother with great home cooked meals BUT instead was a takeout mum. Think of the mum you are.
what is the attachment to the thing you have and you may need to release
 Look at  habit clutter – chronic lateness, perfection, email addiction
Have a theme for your next chapter. If all is gone tomorrow what will I miss?
When you letting go, predetermine where it will go or you will panic. when you panic just take a breath.
Try something that has nothing to do with your theme and side track e.g learning ballet.