This slideshow requires JavaScript.
Inspiration behind this recipe: Malva pudding is a proudly South African dessert. It's usually sticky, sweet and warm but I wanted to adapt this week's ingredients and put a spin on our traditional Kaapse malva pudding using coconut milk and crackers with a chocolate spin, and served with roasted pears and warm custard. When my daughter was 4 she showcased her first dessert on my Facebook page. I always try dessert recipes that she would be able to make easily. Simplicity was the aim of this recipe. Quick and easy to make, smallies will have lots of fun helping mum or dad to make it.
Bachoo's dessert
Bachoo (my daughter) made this dessert when she was 4 years old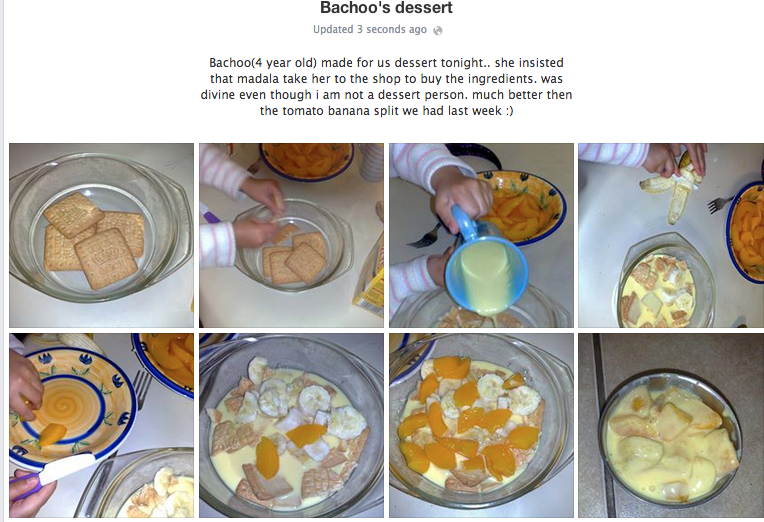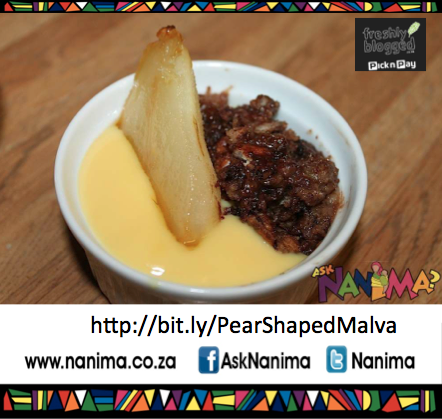 For the malva pudding with a twist:
2 cups Pnp cream crackers, ground fine like flour or crushed in pieces
1 cup dark chocolate, cut into pieces like chocolate chips
1 tsp baking powder
1 can coconut milk
1/2 cup almonds, chopped or finely ground
Sugar to taste
1 tsp cocoa, or more if desired
For the pear shapes:
2 pears peeled, halved and cored
1 Tbsp sugar
1 Tbsp butter
Parmalat custard as needed
Malva pudding with a twist:
Preheat the oven to 180°C.
In a bowl, mix crackers, dark chocolate, baking powder, coconut milk and almonds.
Pour the mixture into a greased dish, spreading it out evenly. Bake for about 30-35 minutes.
Pear shapes:
Toss pears in sugar and butter and place on foil in a baking tray. Roast pears in oven for 15 minutes or until tender and caramelised.
To serve:
Malva pudding with a twist with roasted pear and custard.