Yay, Ask Nanima has won the Findus Frozen Assets Challenge 1 of the Freshlyblogged competition for the Lekker Thai Potjie – Thank you to all those that voted, Pnp, Freshliving magazine and Russell Hobbs, Findus for this awesome competition.. get's really hot in the kitchen at times..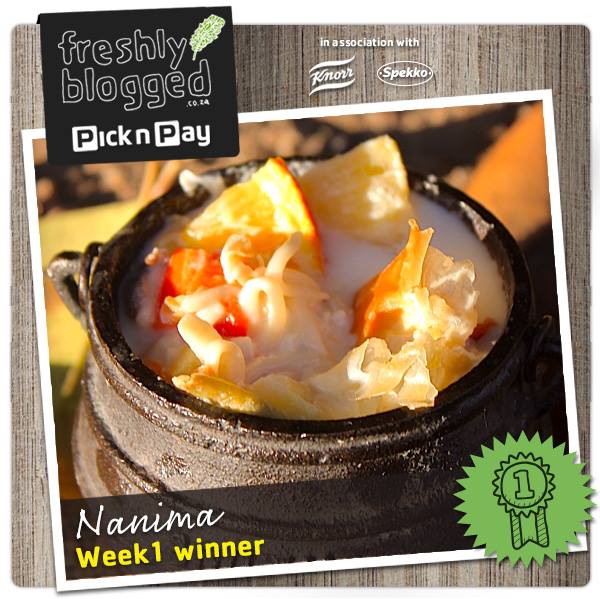 Here are the pictures of how this Lekker Thai Potjie Recipe was made.
This slideshow requires JavaScript.
Inspiration behind this recipe: While visiting my parents in a dorpie this weekend, I had a mini-bosberaad with my mum, sisters and daughter to brainstorm ideas on what to do for this Frozen Assets challenge. I wanted something winter-warming, with a South African look and feel and a Thai twist. My 'groot sussie' suggested a potjie. Although I don't have a potjie, I liked the idea of throwing all the ingredients into a pot and making a hearty soup.
Ingredients
1 pineapple
1 orange
Olive oil (or oil of your choice)
1 packet (500g) Findus Wok Thai vegetables
2 Tbsp PnP cook additions crushed garlic, ginger and dhania paste
1 cube vegetable stock
1 packet PnP 2-minute noodles
1 tin coconut milk
1 sheet PnP phyllo pastry (or more if you require)
Salt and pepper to taste
Method:
Peel pineapple and cut in cubes.
Cut a small piece of the orange for garnishing, squeeze the rest of the orange into juice.
Preheat oil in a wok, large frying pan or potjie. Take a few pieces of onion out from the Findus Wok Thai vegetable and braise until golden brown.
Braise 2 tablespoons PnP paste in olive oil in a pan, wok or potjie until you can smell the aroma or for about 10 seconds. Add 1 packet Findus Wok Thai vegetables and cubed pineapple. (Make sure vegetables are dry before cooking so they retain their crispy texture.) Season to taste and stir-fry for about 2-3 minutes, until vegetables are cooked.
Add juice of half an orange and let it braise for 1 minute. Add vegetable stock and let it braise for 1 minute. Add PnP 2-minute noodles and one litre of water. Boil and simmer for 10 minutes. Then add coconut milk. Boil and simmer for few more minutes.
While soup is boiling, take out a sheet of phyllo pastry (or as much as you require). Cut into strips (or any shape you desire). Pan-fry, fry or bake the phyllo pastry until crispy and golden brown. If you bake it, you may need to brush with little olive oil or any oil you use for cooking.
Serve soup in a cute potjie or in dishes of your choice. Add the strips (or shapes) crispy golden-brown phyllo pastry to the soup, and garnish with slice of orange. Serve this Lekker Thai Potjie on a cold winter's night… Nom, nom, nom!
PS. what is the beauty about winning this round was there was an oil fire that happened during the frying of phyllo pastry and burnt my spice cupboard, extra fan and damaged my stove. I did not have a stove to fully complete this challenge but managed to use a 1 plate stove to persevere and carry on.
Look for the bloggers recipe section and vote for the challenge that is open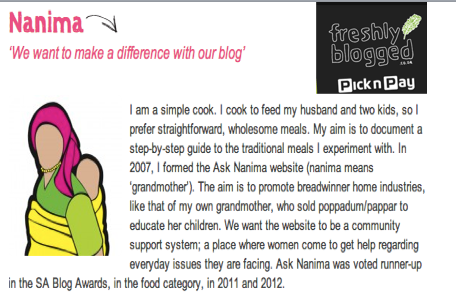 <
Lekker Thai Potjie in Pictures