This slideshow requires JavaScript.
Name:   Tasnim Jadwat Casoojee
Occupation:  Freelance Journalist
Home industry name:  Bonbons et voila!
Website:  http://www.facebook.com/petitbonbons
Cell no: 0721535953
Baking tip:   Always  weigh your ingredients, baking is an art of science!  Never be afraid to try new things you'll be amazed at what you can do!
A little bit about myself:   I was never a person who loved baking until watching programs such as Masterchef changed by whole life. I found baking therapeutic and enjoyable at the same time and found a whole other world of sugar. I started making French macarons about two years ago and found that there was a market for them too. And so began bonbons. I also have an ice cream range called voila!  I like experimenting with different flavours.
Trois brioches a tetes byTasnim Jadwat Casoojee
Brioche
By Tasnim Jadwat Casoojee (BonBons et voila!)
FROM THE KITCHEN OF :  Michel Roux (senior)
INGREDIENTS:
500g           bread flour
6                 eggs
70ml          lukewarm milk
15g             yeast
15g             salt
350g          chilled butter (chopped into cubes)
30g            castor sugar
egg wash:
1                 egg
1tsp            milk
fromage a la  crème avec pistaches et dates
250g        cream cheese
¼ cup      cut pistachios
½ cup     dates (seeded)
METHOD:
1.     Put together flour and eggs into a mixing bowl.
2.    Dissolve salt and yeast in the warm milk then add to eggs and flour.
3.    Using a dough hook beat on medium speed till dough starts to come together in a elastic ball.
4.   Scrape the sides of the bowl and hook occasionally
5.    Add sugar and butter simultaneously
6.    Add a cube of butter at a time (this allows butter to be incorporated into the dough)
7.    Scrape the sides of the bowl and hook again and continue to beat with dough hook until butter is well incorporated +-10 mins
8.    Transfer soft and sticky dough into a dish and cover with a damp cloth.
9.    Allow dough to rise for +-2hrs
10. Then knead down the dough
11.   Chill dough in refrigerator, this also makes it easier to work with.
12.  On a lightly floured surface, form a ball of dough and place in greased brioche mould.
13.  Using two fingers make an indent into the brioche dough.
14. Using a small amount of dough roll an oblong ball and place in indent.
15.  Gently press the sides of smaller dough to ensure joining the two balls of dough.
16.  Brush with egg wash and leave for a few minutes, making sure egg wash does not run between dough and the brioche mould.
17.  Allow to rise in mould for about an hour and a half or until doubles in size.
18.  Dip a pair of scissors in water and snip the brioche dough facing outwards, below the small ball or tete. Cut deep making sure you dip the scissors in the water before each snip.
19.  Brush again with egg wash and place in preheated oven.
20.                 Bake at 180 c for about 35-40 mins
21.  Serve with fromage a la crème avec dattes et pistaches. Beat ingredients together place in cling wrap roll into a sausage shape and freeze until firm. Slice rounds and dip edges into ground pistachios. Garnish with a rose petal and edible gold leaf.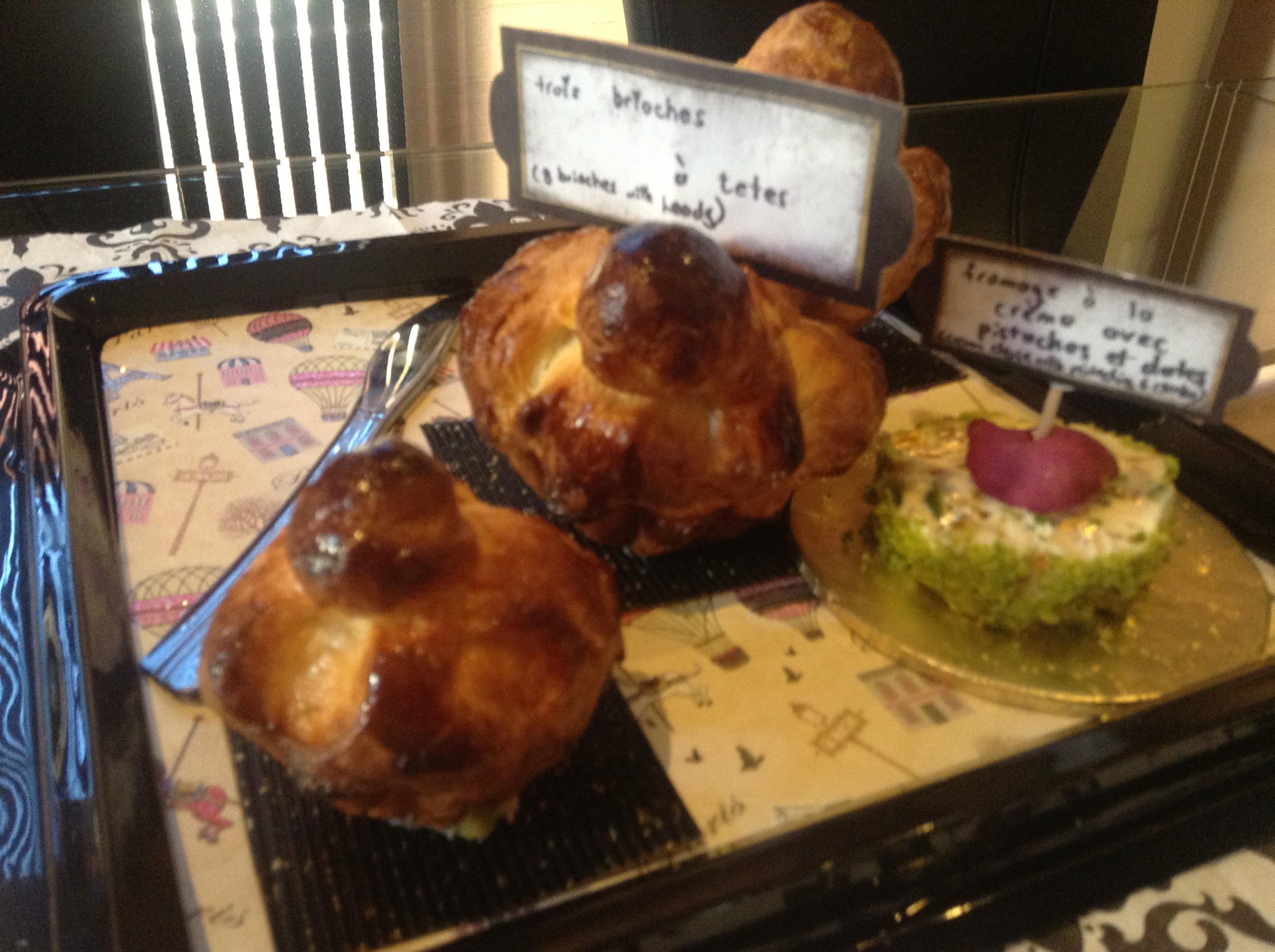 How the brioche was made:
First of all I was undecided as to which recipe to use as there are a few variations and I had never attempted brioche before. I found one of my favourite French chef's, Michel Roux's (senior) recipes online and decided to give it a go immediately as it did not look too complicated. However, my first attempt was a disaster as I had melted the butter before adding it. The butter did not incorporate into the dough but rather separated leaving me with one big mess. I also used normal cake flour in my first attempt. I then decided to try again and bought some bread flour.  I also attempted Julia child's method of brioche which worked well but decided to stick to Michel Roux's (senior) recipe as he has always been one of my role models of the baking world. Julia child's method was long and tedious but produced amazing brioche. However, Michel Roux's (senior) recipe produced what I considered to be the best brioche I ever tasted.
My second attempt was much more successful and I was happy with the results. I followed Michel Roux's (senior) recipe exactly as listed above but made sure I used Lurpak butter and proper bread flour. I also found that by beating the eggs slightly and adding it to the flour made it better. I decided to alternate the dough hook with the silicone k beater attachment especially when adding the butter. I found this very useful and found the butter incorporated better. After I produced soft elastic dough I found that rising and then deflating the dough is one of the most vital components in the brioche making process. Chilling the dough also made it much simpler to shape and handle. I chose the brioche mould as it is the classic way of making brioche a la tete and I always enjoy complementing something classic with something avant garde.  I made three mini brioches with heads and served it with a simple but decadent cream cheese spread. The cream cheese with pistachios and dates accompanied the brioche magnificently.  I have always loved combining cream cheese and dates and decided to add pistachios to create a voyage of gastronomic textures in the taster's mouth.