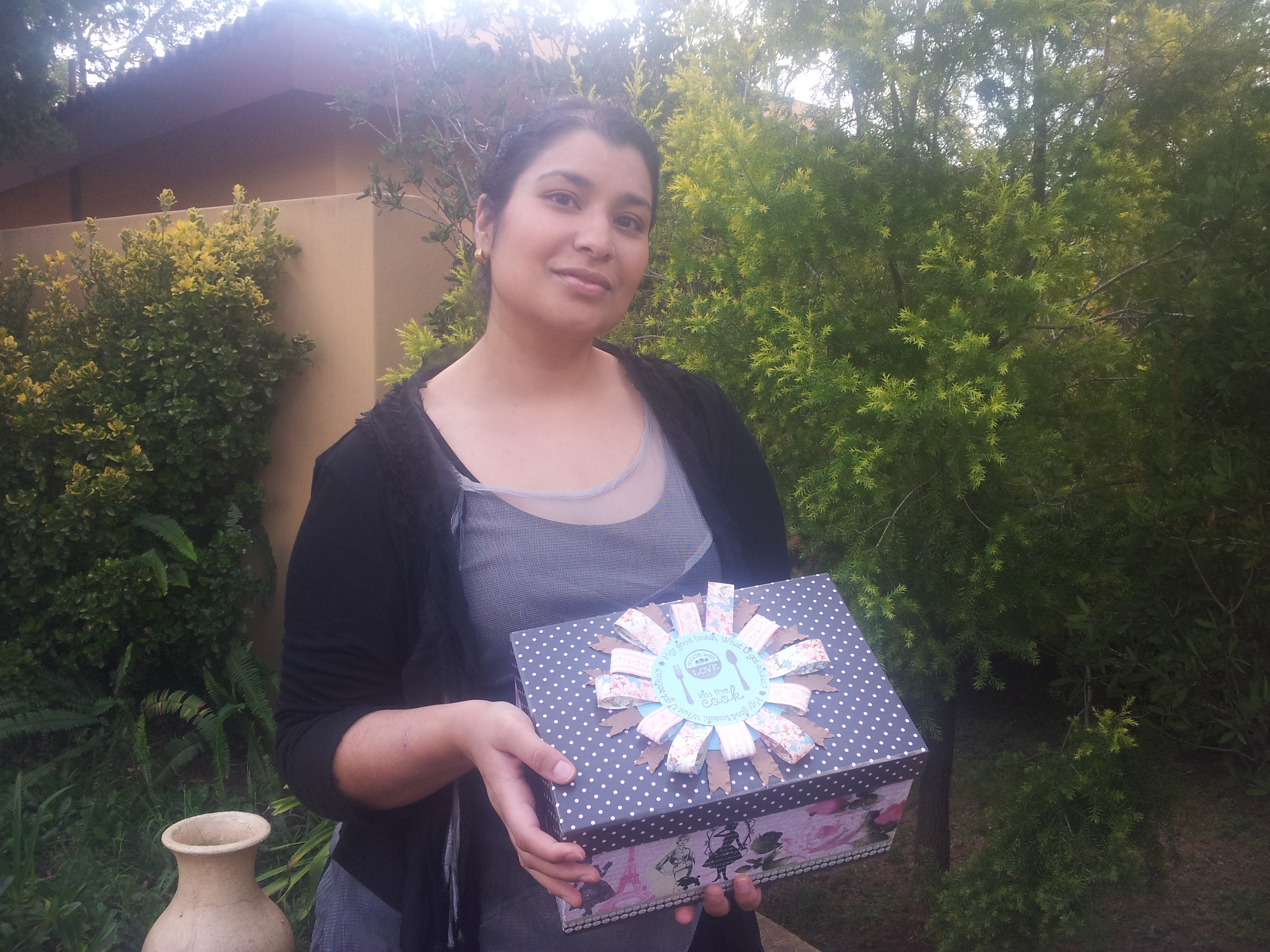 Name: Mariam Fakir
About: My love for the food world intensifies each day.  Flavour combinations and taste sensations flood my mind several times per day. I am pedantic about what I use in my creations and always try to source the best ingredients I possibly can. I am a firm believer that homemade is always superior to mass produced items. I believe in sharing the little knowledge that I have. Therefore, I host a variety of baking related workshops in Gauteng. Other than imparting baking & cake decorating knowledge, my ultimate aim is to get each person who attends a workshop to fall in love with food over and over again.  If you love what you create, your creation will always taste sublime.
Baking Tip:
A kitchen without a scale is an incomplete kitchen.  If you fail to measure your ingredients accurately, you may find that your creation will "flop". You may enjoy baking, but always remember that baking is a science. Ingredients are combined in a specific ratio to add strength, tenderness and flavor to your cake.  So always measure correctly!
Facebook Page Address: www.facebook.com/domesticmariam
Contact: domesticmariam@gmail.com
This slideshow requires JavaScript.
Recipe
METHOD
A traditional brioche is made by incorporating butter into the dough. If you do not own a stand mixer, kneading the butter into the dough will take more than 15 minutes.  Many people cannot afford stand mixers and therefore may be put off from making brioche due to the muscle work involved.  My aim is to encourage people to bake in their homes. I believe in home baking; I like developing a love affair with my food. Taking this into consideration, I chose to use a no-knead method to encourage people to experiment in their home. While some aspects of my creation may never be replicated in the average home, the basic brioche would still be easily attainable. My main fear in choosing the no-knead method is that Lila would think that I'm taking the easy way out.  Having used both methods previously, I decided that in this instance the fine-texture of the no-knead method would be best, considering my plans for the brioche.
FLOUR
Brioche is made with French Type 55 or All Purpose flour in other countries. The protein content of these flours is approximately 11%.  South African cake flour has a protein content of around 11%; thus making it an equivalent in protein levels.  However, I found that when baking brioche with cake flour the brioche is far too fine crumbed and lacks "strength", whereas bread flour is too strong.  I decided to use a mixture of bread and cake flour.
ALMOND AND ORANGE BRIOCHE 
Almond Paste Ingredients:
Blanch 1½ cups fresh almonds into boiling water for 10 minutes. Peel the almonds, roast slightly and grind in a coffee grinder to create a smooth powder.
1½ cups sifted icing sugar
1 extra large organic egg white
½ teaspoon sea salt (I used coarse sea salt and crushed it gently in a pestle and mortar)
½ teaspoon almond extract (not essence!)
Place all of these ingredients into a food processor and process till a smooth, firm ALMOND PASTE is formed. Knead lightly. Store in an airtight container and refrigerate for up to a month.
Almond Cream:
145g almond paste
45g unsalted butter (My preference is Woolworths Unsalted Butter)
35g sifted cake flour
1 extra large organic egg
¼ teaspoon almond extract
Place all of these ingredients into a food processor and process till a smooth ALMOND CREAM is formed.
Brioche:
This quantity is sufficient for one loaf of brioche and can be shaped as desired after chilling. I have attached a picture to illustrate this.
Ingredients:
47g lukewarm water
1 teaspoon sea salt (I used coarse sea salt and crushed it gently in a pestle and mortar)
35ml honey
75g unsalted butter, melted and cooled
110g of organic eggs (approximately 2 extra large eggs)
175g bread flour, sifted
60g cake flour, sifted
1 teaspoon active dry yeast (ensure that your yeast is fresh)
Method:
Add your flour into a bowl. Stir with a balloon whisk to incorporate the two kinds of flour.
Into a large bowl add the water, sea salt, honey, melted butter and eggs.  Using a balloon whisk, whisk the mixture vigorously for 45 seconds.
Sift the flour into the liquid ingredients. Add the yeast and whisk/stir till all of the ingredients are incorporated. This should take no longer than 45 seconds.
Cover the bowl with clingfilm, place a tea towel over the bowl and leave the dough to rest at room temperature for 2 hours or until double in size.
Sift some flour onto a board and place the dough onto the board. Place a pastry scraper under the top half of the dough. "Stretch" the mixture lengthwise and fold to a middle point. Repeat with the bottom half and thereafter each side (sideward stretch for each side).
Place the dough into a bowl, cover and refrigerate for a few hours or overnight.
Remove from the fridge. On a lightly floured board roll the dough till is 5-7mm thick. Spread some almond cream on the dough.  Roll up like a swiss roll. Refrigerate the roll for a few minutes.
Butter a pan and sprinkle sugar on the buttered surface. Cut rounds with the dough and place the rounds facing upwards (like a cinnamon bun roll). Leave space in-between as the mixture will "rise" while resting.
Brush the brioche lightly with a beaten egg. Cover the brioche with a tea towel rest for 2 hours.
90 minutes into the resting time, preheat your oven to 175 degrees celsius. I do not to use the thermofan option.
Brush the brioche again lightly with beaten egg.
Mix together:
Zest of 1 medium orange
¼ cup of sugar
1/3 cup of slivered almonds
Place this mixture on the brioche and bake for 30-35 minutes once the oven is at the desired temperature.
Once removed from the oven, lightly drizzle some honey over the brioche and dust with icing sugar. Serve warm. This brioche can be turned out of the pan.
This ALMOND & ORANGE BRIOCHE can be reheated for a few minutes (till warm) in a moderate oven