The once we were in the Kruger National Park, and all of a sudden we heard Bachoo (3 years at the time) saying Spring Roll, Spring Roll. I was wondering what she was on about, I didn't have any spring rolls for padkos. Looked back and she pointing Spring Roll, Spring Roll. When we looked out the window we saw a buck similar to a springbok. Making this savoury, just reminded me about the time Bachoo saw a living breathing Spring Roll. Now I liss for SpringRoll biltong.
The Spring Rolls were very easy to make especially when you have a great team behind you. Making savouries in the Nanima household is a family team building exercise, we all get our hands dirty, Bachoo, madala and I. Poiroo tries to put his finger in the pie as well. The hardest part was unsticking the sheets. Amazingly enough none of them tore, even though I tried to test them in all angles to see how pliable these sheets were. They were firm. The spring roll sheets pack said 40 sheet. I had a thought and was wondering whose job was it to count there were 40 sheets in a pack and how they actually count there are 40, especially when it comes to samoosa pur pack of 100.
Spring Roll recipe 
Ingredients
1kg chicken fillet cubed
1/4 lb butter
2 onions finely chopped
2 tsp dhana jeeru
2 tsp green chillies masala
2 tsp ginger garlic
bunch of green dhana chopped
half cup of mayonaise
half cup pasta (boiled already and chopped in small  sizes)
ready made spring roll sheets

Method
Braise onions, chicken, ginger garlic. Thereafter Add rest of ingredients.
Fold spring rolls.
Fry/Air fry and serve with chutney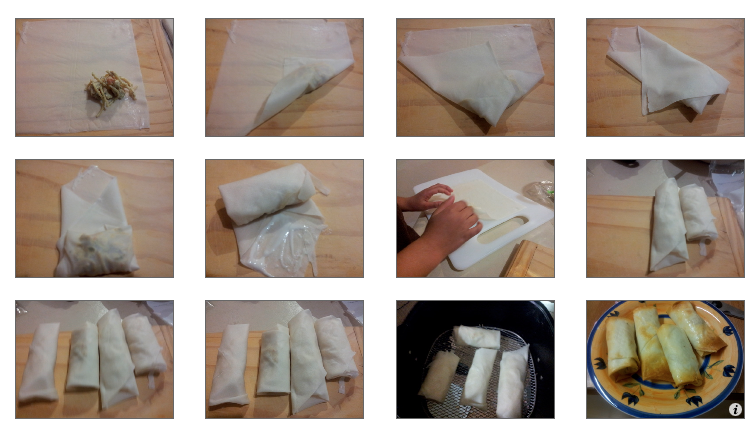 Spring Roll Surprise
So, you hear about all these different spring roll concoctions and fillings, so I decided to take a break from filling springrolls and had a little experiment of my own. found dark chocolate kit kat, filled in a spring roll, air fried it. Lekker.. After all our tast tasting we managed to make about 33 spring rolls. Left over I put in a tray, will either make a cottage pie or cutlets by just adding mash and cheese.