SANZAF 5 Pillars ITV Winners of Hajj Prize

SANZAF Western Cape proud to announce the official handover of the fully sponsored Khidmatul Awaam Return Hajj Tickets to the winner of 5 Pillars Game on ITV
From left to right : Soraya Baradien, Khidmatul Awaam Pilgrimage
Services, Nadia Saud , overall winner of the 5 pillars Game Show,
Fozi Mustafa Saud and Abdurazaaq Razaaq Executive Secretary
SANZAF Western Cape
Special thank you
Stockist of games
Please buy all your games directly from SANZAF in future. to find the nearest SANZAF office
Nanima and 1000 good deeds 5 pillars Competition
Breaking News
9 August 2012
As the last 10 day are upon us and due to the spirit of Laylatul Qadr – month of 1000 months. we opening up the5PillarsGame competition a little more. All the people with the correct answer in the last 10 days of Ramadan in the first hour the question is posted will will be entered into the draw.
31 July 2012
Ask Nanima and 1000 good deeds will each have their own 5 Pillars Game during Ramadan. First person to answer correct daily will be placed in a draw at the end of Ramadan  to win the Combo game worth R540 (maybe 1 day when Ask Nanima grow's up we can give away haj prizes inshaAllah). Winners of the previous days not eligible to enter, give everyone a chance.
more info
http://www.facbeook.com/AskNanima
http://www.facebook.com/1000gooddeeds
30 July 2012
Ask Nanima was one of the first 10 in the world to receive this 5 Pillars games. Alhamdulillah what  awesome games.
5Pillars is an Islam Inspired Ideas product  and has been authenticated and endorsed by the Islamic Online University (IOU).
5Pillars is an Islamic board game designed to educate players on various aspects of the pillars of Islam from the basics to interesting "Did you know?" facts.
5 Pillars Board Game
I played with one of my friends when I received the game. On Saturday Madala and I played this game. What an awesome game especially since i narrowly beat him. It was very close. Great game that can be played with 2 or more people. Learnt lots about things we didn't really know. Questions were from easy level 1 to level 5. We managed to play the game in 1 hour. This game was mainly trivia based on the 5 pillars. You answer a question and you get a tile. person that get's all the tiles is the winner and has conquered the 5 Pillars game.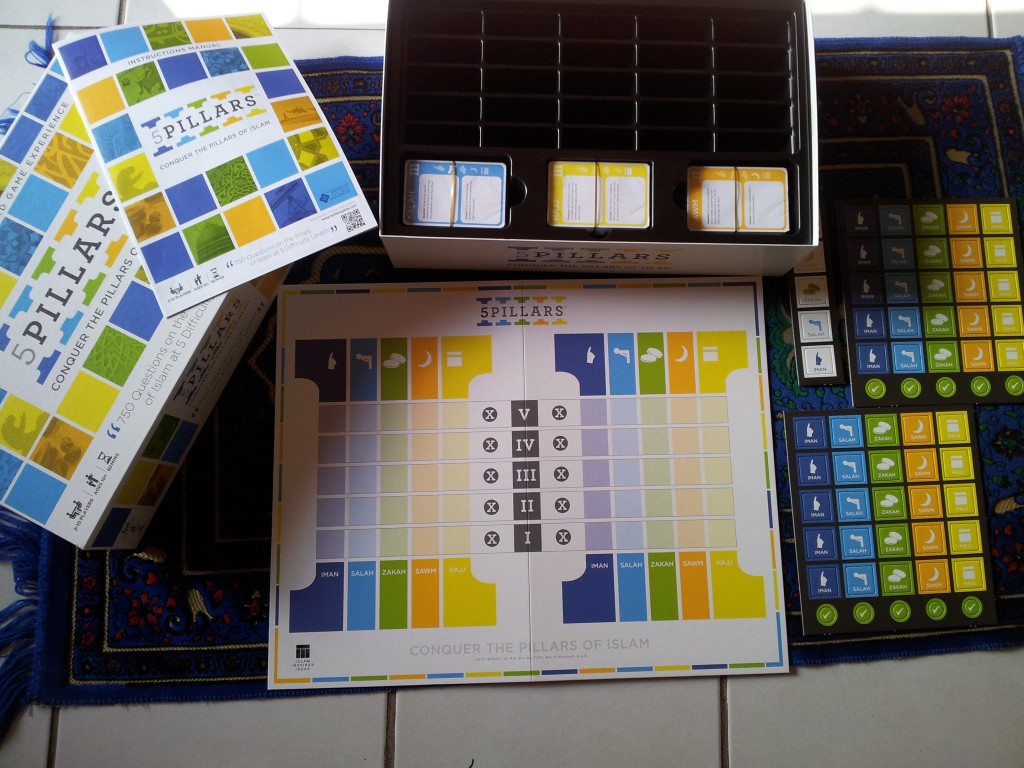 5 Pillars Fun Box
I played the fun box with my competitive siblings. It was interesting. This game was fast paced as you play against a 1 minute timer. Although a group scenario is better, I thought two people could also adapt the game to play with each other. The fun box is a much smaller box than the 5 pillars game but they say dynamite comes in small packages and this game was an explosion of fun. How you play the game is simple. You have two teams. You toss a coin. If it lands on T you ask as many questions in 1 minute The one team asks the other team trivia quetions. . If you get an answer correct 1 point if you answer incorrect negative marking -1.
If your coin lands on C – challenge. you choose a card. You could either get drawing, acting,buzz word or brain teaser challenge. e.g you may get draw something with your eyes closed on hand tied or something. You have to draw and get your team member to guess what you are trying to draw in 1 minutes. if you your team get's it correct you get 5 points. if not the other team tries and guesses what you were trying to draw and get 2.5 points. The acting is similar – no speaking just acting and getting people to guess what you trying to say. Buzz words you have 3 target words you have to get the team members to guess. there are 9 words you can't use while you trying to get them to guess. Brain teasers, yoh, these are tricky and I think not for the faint hearted.
Lots of fun. really enjoyed playing both games.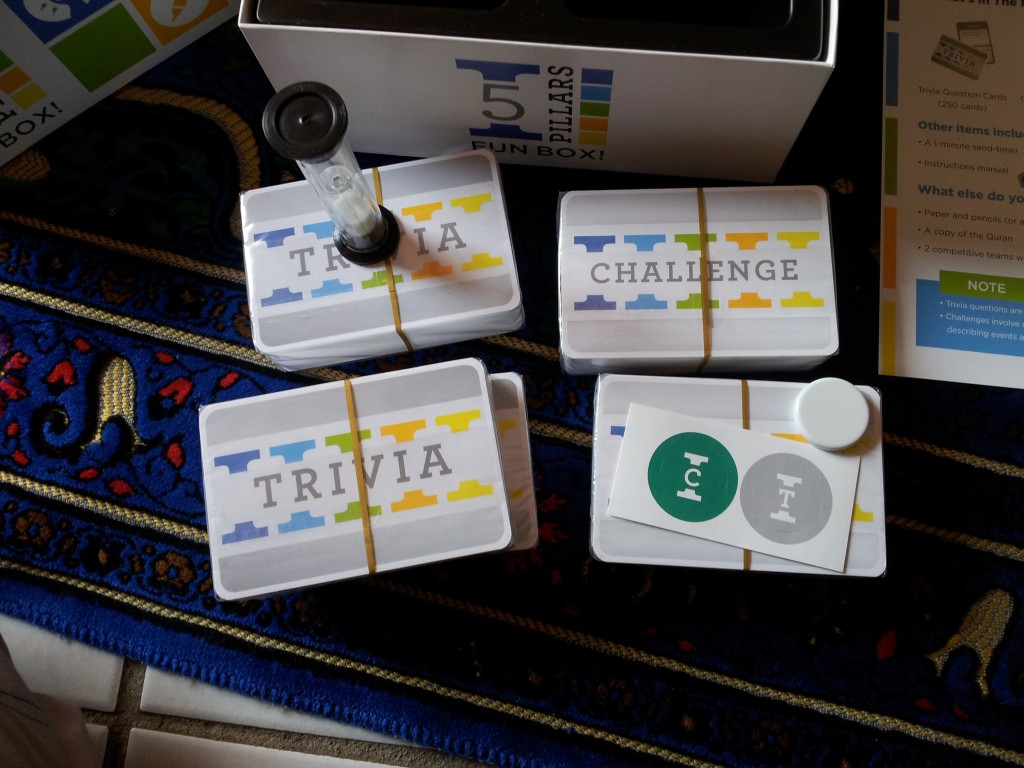 24 July 2012
I am so excited about this. SANZAF have managed to secure a Hajj prize from Khidmatul Awaam and 25 Tablets for the 5 Pillars Game Show this Ramadan 1433. my sister site 1000 good deeds was involved in the creation of the game and tv show. Great to see that things are falling into place. Games are being printed as we speak, finishing touches to make this a quality game. I can't wait to get my copy and start playing.  They will be shipped out next week and be in South Africa middle of Ramadan inshaAllah. Be the first to buy this game at an opening special and reserve your game now
Win Big by Entering the 5 PILLARS Game Show on iTV and be part of South Africa's most rewarding Islamic  Game Show 
To enter the draw, simply SMS your NAME & PROVINCE TO 45065 sms charged at R1 T&C apply 
Last Ramadaan SANZAF launched the successful and popular Zakah Quiz show, this year we are going live on iTV with an all new Zakah Show. This means the bar is raised even higher in the challenge and excitement in creating greater awareness of Zakah by means of a knowledge contest.
A total of 30 shows of 24 min each will be broadcast. The broadcast times are 16:40 to 17:10 from 19 July to 17 August. The finals will broadcast on the 24 August. Exciting prizes are up for grabs with the winner walking away with 2 Hajj return tickets and accommodation Plus 25 tablets must be won  –  General Rules