VERY VERY LATE STALL APPLICATIONS
Very very late registrations. If we have time we may have very very very late stall applications at the Overport Secondary school between 10am-12pm on Saturday. Watch this space for confirmations. may have only 10 spots left.
Invite, BBM, tweet friends, family to Ask nanima home industry Durban here click on event
2.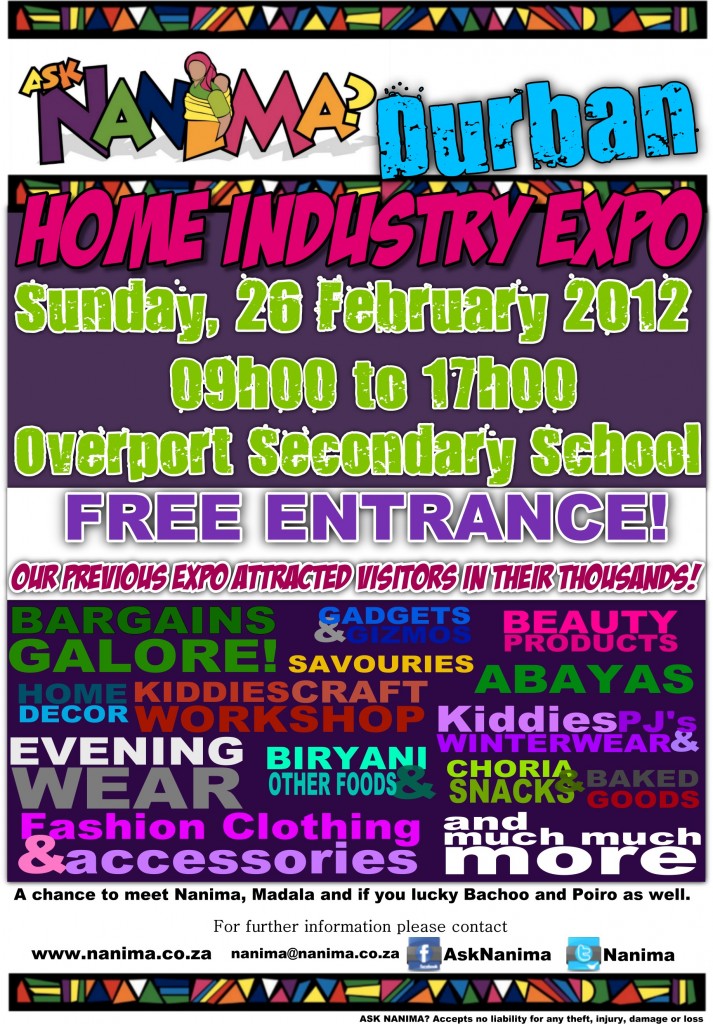 Ask Nanima Home Industry Expo Durban  Cartoon
Late Stall applications
Applications for stalls are closed but there maybe cancellations. If you want a stall email nanima@nanima.co.za to find out if there are any stalls available. We also still running the Nominate a Nanima campaign and looking for kiddies for the bachoopreneur kiddies market.
Registration
Our stall registration process has started. Although we have tried our best to find unique home industries we are finding it difficult as many home industries have a unique product but do many other sideline products as well.
Duchaaz Drop off and Garage Sale
Are  Duchaaz (clutter) Taking over your life?
Do you feel overwhelmed with stuff?
Are things sitting around just collecting dust?
Are the clothes that you will never wear or fit you staring at you?
You have two options
donate them to a worthy cause for Mahala, free  or
 Sell them  at our Ask Nanima Home industry expo Durban on Sunday, 26 February 2012. Registration fee for selling duchaaz at expo is R100. Limited space available. Registration for selling your duchaaz at expo starts from 8pm on the day of the expo. Bring your own camping chair and beach umbrella.
We are going to have a massive Durban Duchaaz Garage sale –
We have noticed that there are some stuff that are too expensive to donate so you may want to sell them eg. wedding dresses, cellphones, appliances etc. . Here is your chance to sell all your classified type garage sale items directly to the public. Please note if you selling or donating anything it should be in good working condition. Registration fee for selling duchaaz at expo is R100. Limited space available.
Survey Duchaaz Garage sale
to see how many would be interested and how much space to allocate for the garage sale.
 more info about duchaaz donation drop off click here 
Radio Islam Interview discussing expo
Listen to Nanima's Radio Islam interview with Sister Ammarah discussing the Ask Nanima Home Industry expo in Durban
Click here to get the podcast
Aims and goals of expo
Our aim and goals for this event is for home industries :
To sell directly to general public;
Increase their client base;
exhibit and demonstrate their products and services;
Promote home brand awareness;
network and market their small home based businesses;
gain competitive advantage;
build relationships with other home industries
The two previous expos held at Emmarentia Dam and Greyville Primary school we resounding successes.
More info –
Some of the initiatives we plan 
All these posters need to be updated..
Nominate a Nanima – we will be giving away 10 stalls to the most deserving home industries who are nominated especially those that are struggling.
Duchaaz Drop off point – Declutter your life – recycle, reuse reward campaign – Do you have working condition kitchen appliances, pots, baking stuff or Computer laying around and collecting dust toys, clothes.  We will donate these to charity organisations in the surrounding areas.  We will be collecting at Expo- Recycle, Reuse, Reward. (Duchaas – means all those things u sell in the junk mail)
Bachoopreneur Kiddies Market – a chance to give children to sell at the expo and teach them Entrepreneur skills.
Application process Closed – Busy with registration. Cancellation stalls may be available -email  nanima@nanima.co.za for more info
The process will help us:
plan better
 see the needs and requirements
choose the real home industries out there.
 make the stalls as affordable as possible.
choose the best time to have it and
choose the best possible venue.
Applications  closes on the 15 January 2012.
If you can't see application form please click on this link to complete
Please note for more efficient administration purposes we will only be having online applications.
APPLICATIONS ARE CLOSED. We are currently in the process of choosing stalls for registration.
Terms and conditions for application process
Costs of stalls are not available at the moment. The reason we have the application process is to help us with the costing of the expo. Only once we have a fair idea of what the demand is for the expo, venue, will we be able to give prices and the rate card during the registration process.
1. Only home industries may apply for the Ask Nanima Home Industry Expo
2. Applicants are only permitted to sell those items of merchandise which are specified on their application form and which have been approved by Organising Committee. Please place a comprehensive list of what you selling.
3. Ask Nanima Home Industry Expo will not permit any stall holder to sell fake, illegal or fraudulent item/s at the event. This is constituted as fraud and should you not adhere to this regulation you could be charged in terms of the Counterfeit Goods Act. This could lead to serious repercussions for you and if this happens, the responsibility will not rest on the Management or staff of the Ask Nanima.
4. Sub-letting of stalls is not permitted.
5.Once your stall application is successful, you have 48 hours to register and make payment of stall to secure a stall at the expo. If you do not register in this time you automatically forfeit your place.
6. Ask Nanima Ratecards will be available in the registration process.
7. By filling this form, it does not mean you have a stall at the expo.
8. The organising committee have specific criteria they are looking for when choosing the most suited stalls for the expo. Usually uniqueness is a big plus.