Stand up and be counted.
I met my census fieldworker today and just asked him if I could fill in myself and return to him tomorrow. He said fine, he will collect tomorrow. His name and cellphone number and unique census ID is on the form. He also said I must fill in pencil.
Why do we complete a Census Questionnaire with a pencil ?
The responses have to be in the spaces allocated for responses and not anywhere else, when a pencil is used and someone makes a mistake they can erase and have responses in the allocated spot. If they use a pen and make a mistake they cannot erase and will end up writing responses anywhere in the questionnaire. That then will have an impact during scanning
 Verify Census Fieldworker
Census 2011 seems to be underway. Don't be fooled by bogus census counters. "Know your fieldworker"
Verify they are who they say they are by checking on this link  – VERIFY CENSUS FIELDWORKER and check for posters around your street and area to see if the person that is in front of your door is a census fieldworker.  http://interactive.statssa.gov.za:8088/kyfw/
Contact the Census 2011 call centre at 0800 110 248 for assistance or to verify a field worker's credentials. Operating hours are from 5pm to 10pm.
Census Questionnaire
Be prepared – Download the questionnaire before hand and familiarise yourself what is going to be asked so you can fill it faster when they come there.
While the fieldworkers have been trained to assist with the efficient completion of the questionnaire, if a person wishes to complete the questionnaire on their own, they can do so and arrange for the fieldworker to collect it before October 30.
They can also contact the call centre (0800 110 248) if they need assistance with completing the questionnaire as all questions must be answered.The public are not obliged to allow an enumerator into their homes. The interview can be conducted through a security gate, in one's yard or at a public place.
Every Stats SA official is sworn to uphold the confidentiality of collected data. Employees of Stats SA will be legally bound, by signing the Oath of Confidentiality, never to disclose individual information gathered in the course of their duties, to anyone not authorised by Stats SA.
The 14-page, barcoded document consisting of 75 questions will take about 35 minutes to complete, depending on the number of people in your household.
All questions must be answered. Questions about one's earnings are used to identify the standard of living, and are used to generate economic and social indicators such as the Living Standards Measures (LSMs).
source: Stats SA and IOL
for provincial contacts – click Provincial contacts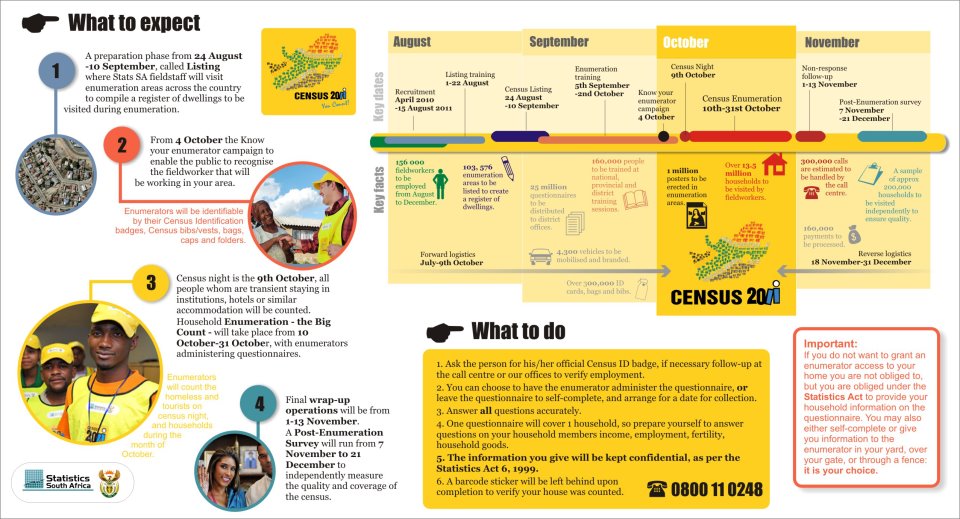 more info visit STATS SA