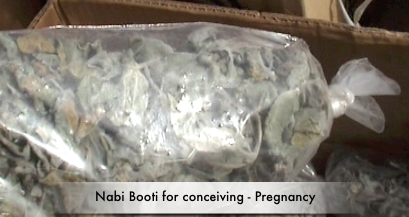 What is Nabi Booti?
Always remember that life comes from Allah and everything only  happens with  Allah's will. Please never loose hope in the mercy of Allah.  I have been very interested to find out more about this leave. Here is some research I have done regarding it.
Leaves from Medina also called nabi booti, used usually to strengthen womb and for conception if Allah will's inshaAllah.
It is a herb and I am not sure what the background about it, what it's significance etc. All I know is that leaves can be found in Medina usually in the market near mount Uhud. Looks like dried curry leaves. Many have used it who were struggling to conceive, I also used it. From the research I  have done as I have been really trying to find out more about this but can't find anything. It took me years to get a name for it, it is said that the Prophet(SAW) gave these leaves to a lady who was finding difficult to conceive. I don't have any authentic to corroborate this, all i have read from the internet.  Allah knows best.
There are a few ways I heard that this can be boiled but this is the way I know, recipe from my mum who got it from Late Moulana Begg when she was in Medina.
Recipe 
take handful of leaves boil it in 2 litres of water. Boil until nice strong. Cool it, strain it, put in bottle, squeeze all juice from leaves and dispose of leaves by burying it in a clean place as it comes from a mubarak place.
Refrigerate
Every morning the first thing u do as soon as u wake up
1.  make powerful intention for children and ask Allah from the bottom of your heart..
2. drink half a glass
PS. it is very bitter..
If water starts getting pale boil another hand ful and refill
PSS. there are other ways this can be made, some say with milk etc but this above recipe is what I know.
Please note you can only become pregnant with Allah's will
please have trust and faith in Allah that he knows best.
Things you can do
1. Wake up for tahajud and beg Allah for children
Narrated Abu Huraira:Allah's Apostle (p.b.u.h) said, "Our Lord, the Blessed, the Superior, comes every night down on the nearest Heaven to us when the last third of the night remains, saying: "Is there anyone to invoke Me, so that I may respond to invocation? Is there anyone to ask Me, so that I may grant him his request? Is there anyone seeking My forgiveness, so that I may forgive him?" Bukhari – http://1000gooddeeds.com/2009/09/04/good-deed-15-perform-tahajjudqiyam-layl/
2. Fast – fasting always good and duas of fasting person get's accepted inshaAllah. fasting very good for balancing the body, mind and soul.
3.  Read these  dua often
Rabbana hab lana min azwajina wathurriyyatina qurrata aAAyunin waijAAalna lilmuttaqeena imaman
"Our Lord! Grant unto us spouse and offspring who will be the comfort of our eyes, and give us (the grace) to lead the righteous." (25:74)
As far as specific du'as for conceiving, there is no "magic bullet" du'a, of course, but here are some beneficial supplications from the Holy Qur'an:
"Rabbi la tadharni faradan wa anta khayru al-warithin."
(My Lord! Leave me not solitary (childless though) You are the best of inheritors.)" (Al-Anbiya 89)
"Rabbi hab li min ladunka dhurriyyatan tayyibah innaka sami`ud du`a' (My Lord! Grant me from You upright offspring, for You hear all prayers)" (Al `Imran 38)
Recite these du'as frequently, and also make a habit of remembering Allah throughout your day with "subhanAllah" "alhamdulillah", and "Allahu akbar" and other authentic du'as.
As for the du'as, it is sunnah to recite the following du'a before engaging in marital intercourse:
Bismi Llah(i), Allahumma jannibna sh-shaytana wa jannibi sh-shaytana ma razaqtana.
In the name of Allāh. O Allah, protect us from Satan and keep Satan away from the children You grant us.(Bukhari)
4. You and your spouse go for check ups to the gynae to see everything is working correctly
5. Cupping – hijama –
Narrated Jabir bin 'Abdullah: that he paid Al-Muqanna a visit during his illness and said, "I will not leave till he gets cupped, for I heard Allah's Apostle saying, "There is healing in CUPPING." (Book #71,Hadith #600) – http://1000gooddeeds.com/2010/09/27/good-deed-185-heal-with-hijama-cupping/
5. Take these leaves from medina
6. Go for chinese alternative theraphy- I think there is a chinese medicine called chinese bitters that help with endometriosis, diabetes, etc.
Please do not mistaken them for Maryam Booti the flower root like plant used for labour
What is Maryam Booti ?
This is a herbal plant used to speed and aid labour pain during delivery sold in Medina, Pakistan /Iran.
In arabic it is called huurbar and iam pregnant at the moment and have been told to use it, women drink it after soaking it in water i found it to have a nasty taste did not like it at all, and it comes out of your pour's and smell's pretty bad i no many women who say it helps with delivery in labour, Allah yalam. source: zawaj 
Other sources: