About Dr. Haifaa Younis
 Dr Haifaa Younis is a graduate of Mecca institute of Islamic studies (Jeddah, Saudi Arabia) and has completed  Quran Memorisation at Dar al Huda academy in Jeddah. She is currently in the process of completing Ijazza in the Quran ( Hafs an Asim ) 
Dr Haifaa Younis has also Studied  with various shuyukh individually for more than 18 years in the United states USA and Jeddah, on many subjects such as Aqeeda, Fiqh, Usool-ul-Fiqh, Hadeeth and Tazkiyya (Purification of the Soul).
She is also a Practicing Physician certified American board Obstetrician and Gynecologist. 
Dr Haifaa Younis is Founder and chairman of Jannah institute of Quran and Islamic studies , ST Louis , USA; and teaches seminars on the thematic commentary of various chapters of the Holy Quran and their practical relevance in our day to day living and offers retreats on key topics that inspire hearts, combining the inner essence of Islam with the outward expression of practice.
She has conducted lectures, Retreats, and seminars in many states in the USA, throughout South Africa, Australia , Pakistan , Dubai and in Jeddah.
Nanima Review: Sister Haifaa on tazkiya – Purification of the heart
July 2011
This course is just what the doctor ordered.  The retreat was enlightening. Enjoyed every second of it. Was great to be away from the rat race for a while and just get things in perspective. Totally awesome and highly recommended. Really feel refreshed, rejuvenated for Ramadaan inshaAllah. Definetly the Tazkiya retreat is one of my top 2 workshops of all time.
I felt like I needed a bit of a break so I decided the best way to get perspective is to leave everything behind and go for this retreat. I decided to leave my computer behind and switch off my cellphone for most of it. It was the best decision I had made. I really thought it was going to be difficult as I have admitted before I am a facebook addict. Alhamdulillah I am finally free. I did not miss it for one minute. I sat through the workshop, practised what was told and alhamdulillah things seem so much better, clearer, peaceful.. as one participant said "this is really a boot camp." yes a boot camp to boot out the ego.. . The environment was peaceful relaxing, mountains, water, ducks.. tranquility at it's best. The food was enough. Focus of the retreat to speak less, eat less, sleep less and worship more..  I highly recommend to attend any talks or workshops held by Sister Haifaa. Allah has really given her the gift to move you to change to become closer to Him InshaAllah. Truly you can see how dedicated she is to this work that even though she fractured her leg, she still came to teach us without complaining. We are truly blessed to have access to people like this who teach us ways to get closer to Allah.
Please note if you feel you can't afford these workshops generally if you speak to the organisers they can always make a plan inshaAllah..
Visit Dr. Haifaa Younis website for more info http://www.jannahinstitute.com/  
or Marifa Insitute for any South African Dr. Haifaa younis Retreats – http://www.marifainstitute.co.za/

Next talks and retreats (Ladies Only) –
PRETORIA  – 9 AUGUST 2017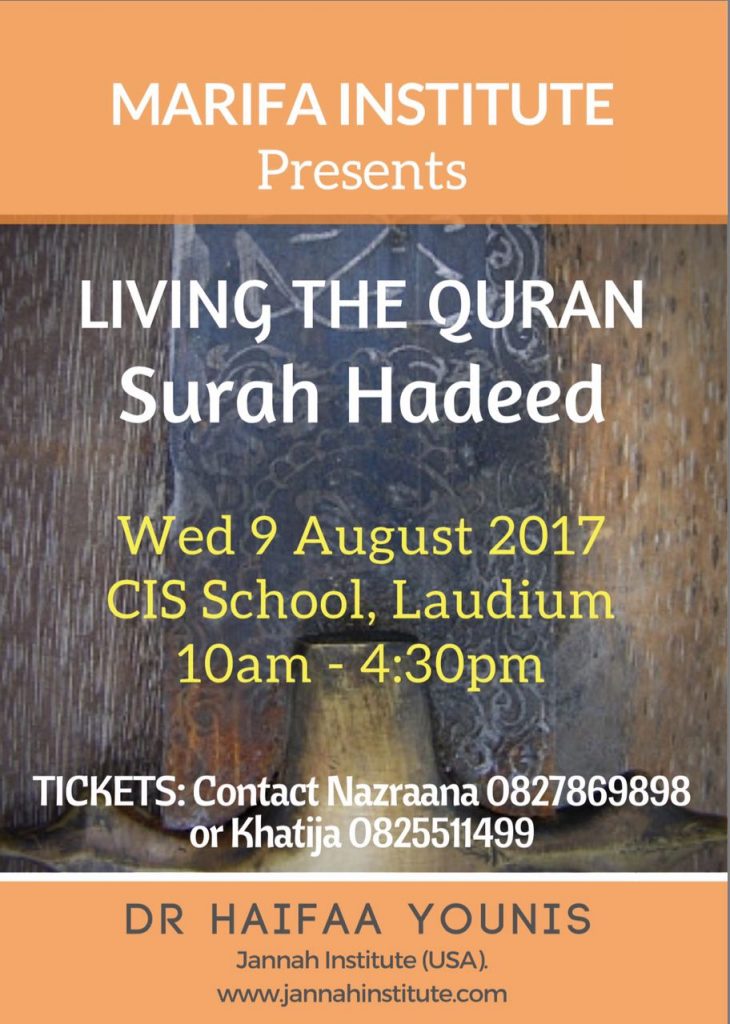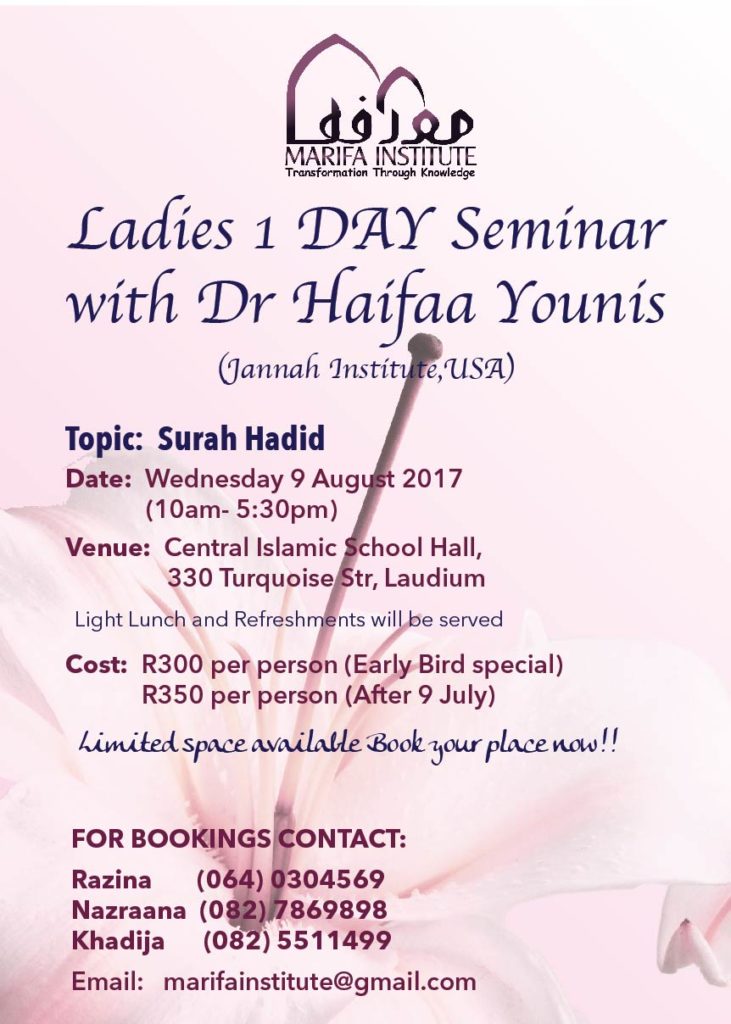 Polokwane  2017
more info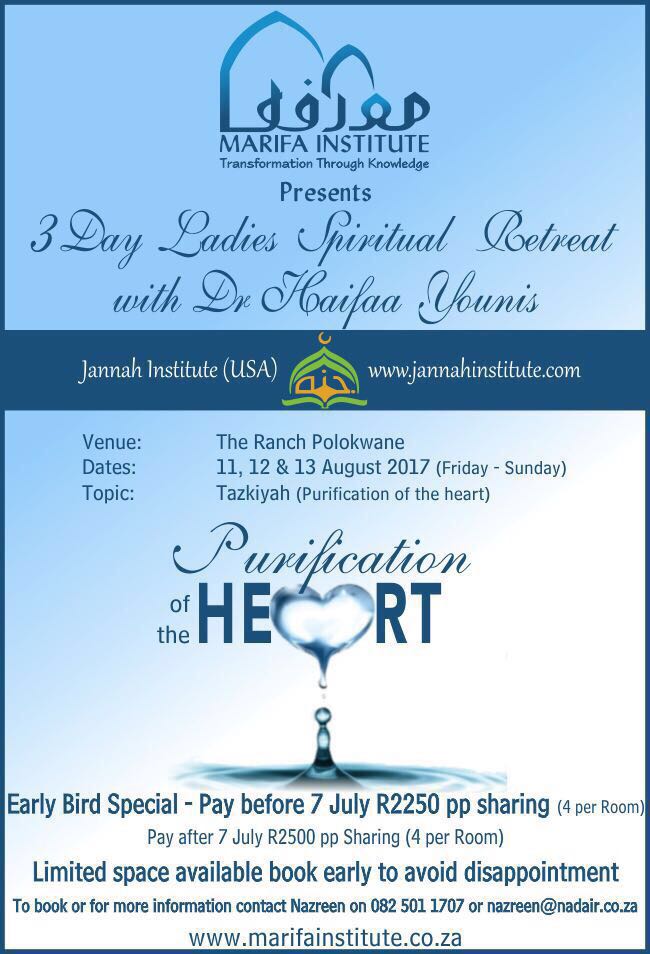 Past retreats 
The retreats are based on Tazkiyyatun-Nafs which means purification of the self/heart. The focus at the retreat is on the individuals relationship with Allah (SWT), and how to cleanse oneself in order to get closer to Allah, through study of the Qur'an, Zikr and reflection. This is the 5th year that we will be having the retreat, InshaAllah. Thus far we have had 6 Ladies retreats in South Africa, as well as one Youth retreat. All of the retreats held thus far were based on a different theme. In 2007 the theme was 'Tazkiyyah- A Journey to happiness-the Happiness of the Righteous', In 2008 the theme was : 'Tawhid- Reflections on Surah Al-Anaam', In January 2009, In Pretoria the theme was 'Ikhlaas- Reflections on Surah Zumar', In Durban it was 'Tazkiyyah- A Journey to happiness-the Happiness of the Righteous'.
In 2010, the theme in Pretoria (16-19 July) was :  Truth Vs Falshood , Who defines them ?                    Lessons from Surat Alfurqan . The theme in Durban (22-25 July 2010) was: " Live with Only One "- Tawheed, how do I live it every day?
Alhamdulillah all of the retreats were successful, with full attendance (approx. 150 ladies in Pta and 130 in Durban last year).  With the help of Allah no advertising has been necessary as news has spread by word of mouth and sms'.
Sister Haifaa recommends Books and Websites
Download these books from the following links
Remember
Tawheed is the active submission to the oneness of Allah
If you want to become close to Allah, you have to get to know Him better. In the Quran you will you find out His likes and dislikes.
You are the slave and HE is the Master. Allah is the source of everything. Be in awe of Allah.
Act, submit, worship Allah
other interesting websites
TALKS THAT WERE HELD IN THE PAST
2012
Pretoria
Due to Medical emergency Dr. Haifaa Younis could not make the Saturday but great news, looks like she has arrived today.
Slms, All Ladies invited to free 1 day seminar (surah hujurat) with Dr Haifaa Younis tomorrow sunday from 10am -6pm Al Ghazali School Auditorium, Erasmia more info 0824957908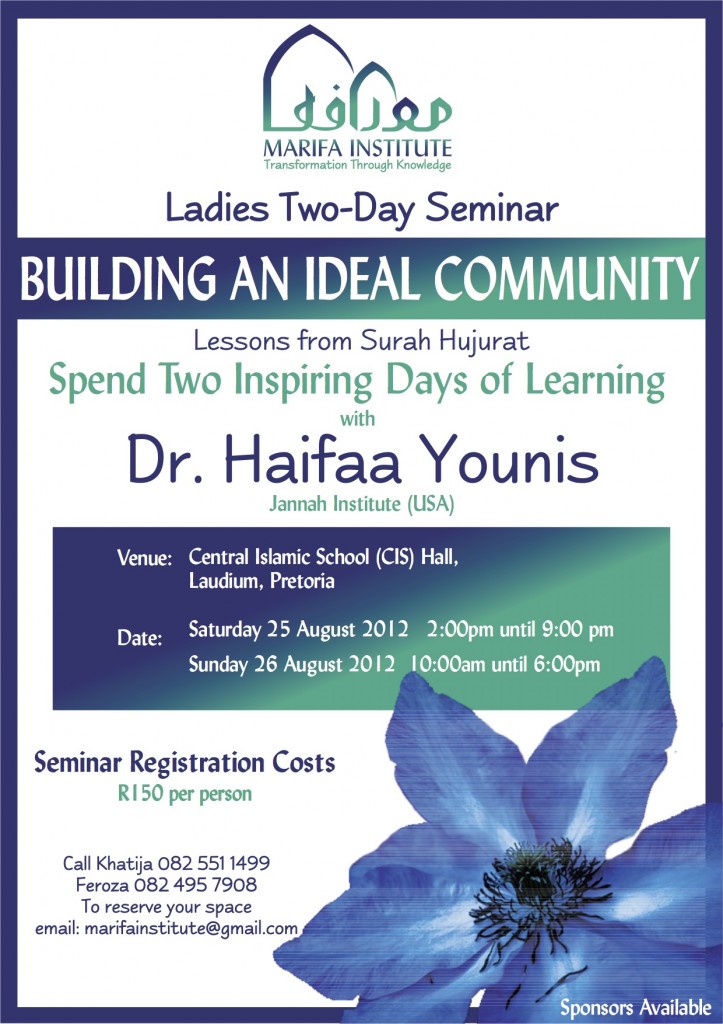 Polokwane
Pretoria January  2012
LADIES SPIRITUAL RETREATS with Dr Haifaa Younis
PTA: Fri 13 – Mon 16 Jan 2012, Shonalanga, PTA. R 2200 p/p incl. Meals and accommodation. Day option: R1000 p/p. Topic: 'Why my Imaan is weak' (Topic to be confirmed after Eid)
CAPE TOWN Retreat from Fri 20 Jan – Sun 22 Jan 2012. R1750 p/p incl meals & accommodation. Only 50 spaces available in Cape Town. Topic: Living Sabr. (Topic to be confirmed after EID)
Sponsors Available. BOOKINGS CLOSE 30 NOV.
To Book your place Call Khatija 0825511499 or Fatima 0846074070 or email: retreatsa@gmail.com.
Confirmation of Booking upon payment. Limited spaces available.
2011
Pretoria Laudium 
Al Asr Masjid
Topic: Living Taqwa
Cost: Free
Johannesburg
Sultan Bahu
Tuesday : 10h30
Dunya: How not to indulge in it.
DURBAN LADIES RETREAT 2011
Venue: Sica Guest house, Durban.
Topic: LIVING TAQWA (Allah Consciousness)
Dates: Thursday 21 July 2011 until Sunday 24 July 2011
Cost: R2500 per person incl. meals and accommodation.
Day attendance option: R1200 incl. meals (for all 4 days)
SPONSORS AVAILABLE
Advanced Bookings essential.To book please contact Mariam at 0828266534 or e-mail: mariam.mahomed@pfizer.com
DURBAN 2017 4&5 August
A first in South Africa is the Workshop on the Fiqh of Menstruation (1-2 August) in Erasmia, Pretoria, which is necessary for every woman to attend. What is unique about this specific course is the fact that it will be conducted from a Medical as well as Spiritual and Shar'i perspective because our dear speaker is both versed in the Islamic Sciences as well as a practising Obstetrician and Gynaecologist. This is a unique opportunity and is not to be missed. you may reserve a place by emailing us at marifainstitute@gmail.com. We can also be contacted on the numbers provided on the posters. Tickets will also be sold on the day from 8:30am InshaAllah. Those unable to pay will be allowed to attend free of charge, as this topic is not to be missed and is essential for every Woman.
Please inform all your women, wives, mothers, daughters and friends about this unique event.