Nanima  Air Fryer Special
Other than this, A&S Wholesalers (http://www.answholesalers.co.za/) have it the cheapest: R1597 + R100 shipping or no shipping cost if picking up (Pretoria). T&cs apply. Tell them Nanima sent you..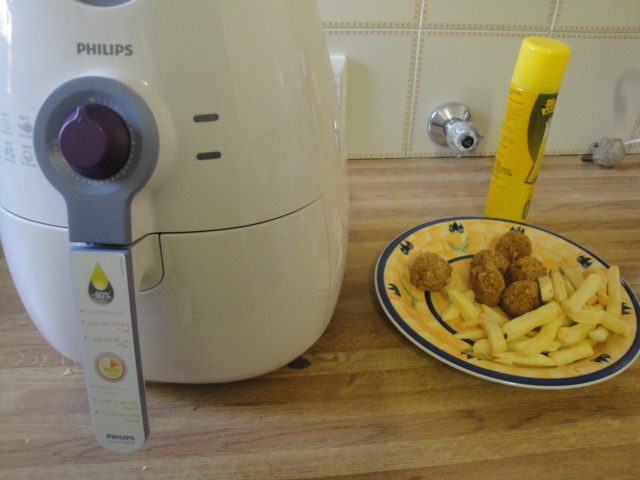 Ok, so I always wanted to get me one of these convection oven thingies especially for Ramadaan. A few years ago found out about something like this but it was way over my budget.  Last week I walked through the shop and saw about 20 of these air fryers, today I went and there were about 4 on display. I thought eish, i better get me one of these or else I am going to hunt for them, they are obviously selling like hot cakes. I brought it home. Unpacked it and experimented with a few things. I tried samoosas as the inaugural food in the air fryer. Told bachoo I won't be making samoosas for her until I get the air fryer. So she was waiting anxiously for the samoosas.  Then I tried Cutlets and chips. Very easy to use and clean. Last year this time we were moving house and I remember clearly sukkeling to clean the deep fryer, not a very nice job to clean a greasy oily deep fryer.
The outcome:
As I am one that doesn't like oily fried food I think this is perfect for me, I am not sure if Madala will agree. The chips are crispier then oven baked chips. The cutlets were perfect. The samoosas were crispy and tasted normal to me without that oily taste. Obviously if you are use to ghee vari roti's and all of a sudden you eating something air droog, it is an acquired taste.. We are use to having oven baked chips.
The only thing I think I needed to maybe brush some oil on the samoosas so they got a more  even air fryer tan.. but even with it being half tanned it tasted normal and crispy.  Great product if you looking for oil less cooking. Just need to experiment a little more to get the right settings etc for each thing.  I am very glad I managed to get mine before Ramadaan..eish,  Now I  can relax, I am almost prepared for the holy month.
PS. Bachoo also enjoyed the samoosa..
Next to test fish fingers, pies, spring rolls, kebabs..
I tried the Pies and spring rolls.. they also tasted fine. The pies were great the best so far in the air fryer. I also tried some pataria was nice.. think some oil brusing and it will be normal..
I finally tried samoosa's brushed with little oil and it taste normal and looked normal..
Only thing is with chips i think u must eat it immediately.. stale chips are never nice anyway..
Anyone else have an air fryer? what do you think compared normal fryer?
All contestants will participate in a cook off at the end of the year.
A&S Wholesalers have kindly sponsored the Phillips Airfryer as the main prize for the Lunch Date Cook Sister 2012.
A&S Wholesalers based in Pretoria is a a wholesaler and retailer of all branded consumer electronics. Audio/Visual, Appliances, Car Audio, Photography, Gaming, Cellular , appliances and IT – visit their online shop  http://www.answholesalers.co.za or like them on facebook – A&S wholesalers