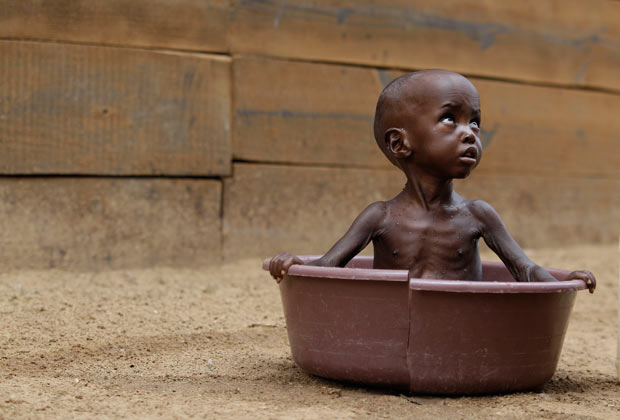 Two-year-old Aden Salaad looks up toward his mother as she bathes him in a tub at a Doctors Without Borders hospital, where Aden is receiving treatment for malnutrition, in Dagahaley Camp, outside Dadaab, Kenya
Picture: AP/Rebecca Blackwell
| | |
| --- | --- |
| Founded | 20th July 2011 |
| Location | |
| About | An initiative to culminate the efforts of the fortunate to help those in need. |
Company Overview

People of Somalia are currently at the knee's in hunger. Experiencing the worst famine in 60 years the countries people are in desperate need of our help. The 1man 1can initiative started with a simple aim of collecting 500 units of canned food but the spirit and generosity of South African people saw the initiative to total collection of over 37000 units of canned foods and over 20000 bottles of …

See more

General information

Please note that this is a private initiative and we are in no way affiliated to any existing organisation. In searching for a credible means for of getting our donation to the people of Somalia, we chose the Gift of the Givers due to their long and outstanding track record and unquestionable reputation as a leading provider of humanitarian aid. With your help, we CAN make this work.

Mission

With the help of each one of you out there, we will strive to make what ever small difference we can
| | |
| --- | --- |
| Email | 1man1can.initiative@gmail.com |
Gift of the Givers are collecting funds for the starvation, famine in Somalia. They have seen the worse disasters in the world and according to  what I saw on the news Dr. Imtiaaz Sooliman  told Gift of the givers that this is the worse drought they have seen. Funds, medical volunteers required
Greetings Friends and Family
As we head towards the Month of Mercy , urgent appeals are being made by aid agencies for contributions towards relief work in East Africa.
Yesterday,the UN declared famine in parts of Somalia. Famine is officially defined as when two adults or four children per group of 10,000 people
are dying of hunger every day and 30 percent of the population is acutely malnourished.
Behind these statistics and the dramatic declaration by the United Nations that this is the worst humanitarian crisis in decades lies a painful picture
of strained survival. The situation around the Horn of Africa is 'The Perfect Storm' : an other worldly combination of climate's ability to oppress,
man's ability to haunt other men and the collation of the mankind's weakest of the weak in a concentrated area.
To outline immediate solutions would be to try and profess a cause and the situation seems so entangled, so complex , that for now urgent and
unflinching relief is the best way forward – let's talk about development a little later. For now, just some relief – a bit of reprieve … some metaphorical
water for parched hearts.
Comprehensive information, as well as feature stories, can be found on Al Jazeera's page dedicated to the situation in the Horn of Africa:
http://english.aljazeera.net/indepth/spotlight/hornofafrica/
Below are details some local relief organisations that have made appeals for contributions (Zakaah included) as well as other international organisations.
Please circulate this information and forward any updates to the list of organisations to this email address.
SOMALIA STARVATION CRISIS : UPDATE 1
Greetings of Peace
Dear Recipients
"As the hunger took its toll a husband and wife left their two children in the 'forest'. They could not bear the thought of their children dying in front of their eyes nor did they want their children to sense that they (the parents) were dying".
This is Somalia; a monumental African tragedy that requires an urgent, co-ordinated international response to alleviate a massive human tragedy. Conservatively three million Somalis are affected by drought, starvation, disease and death. In preparation for its imminent emergency airlift from Johannesburg to Mogadishu, Gift of the Givers Horn of Africa representative, Dr AM Hashi, arrived in Mogadishu on Monday evening, to meet the government, relevant role players, and arrange logistics including warehousing, transport and security.
South Africans from every strata of society from Soweto to Sandton have started responding to their fellow African brothers and sisters. This is a huge tragedy and requires an overwhelming generous response, the latest offer of assistance coming from the Massmart group.
Those wanting to participate in this life saving initiative can deposit into :
Gift of the Givers, Standard Bank, Pietermaritzburg, Account 052278611, Branch Code 057525.
Please fax or email deposit slip to [033]394-3780 /info@giftofthegivers.org.
Details www.giftofthegivers.org or call tollfree 0800786911.
Imtiaz Sooliman (Nairobi).
httpv://www.youtube.com/watch?v=y1kC4m-b0SM
http://t.co/7HWp1ej _ daily maverick
There's soo much to make shukr for! I urge you to support any organisation that is reliable with a good track record in providing relief.
If you have not heard about the 1man 1can campaign, please see the event on Facebook by going to the follwoing link: http://www.facebook.com/event.php?eid=240755755946403
Any queries can be emailed to 1man1can.initiative@gmail.com
Although the deadline for phase 2 of the '1man 1can' collection for Somalia is on 18 August, donations can be made in cash directly to Gift of the Givers account:
Please uses appropriate references. For more info visit or reference on the 1man 1can initiative visit www.giftofthegivers.org for contact details.
Please note that this is a private initiative and we are in no way affiliated to any existing organisation. In searching for a credible means for of getting our donation to the people of Somalia, we chose the Gift of the Givers due to their long and outstanding track record and unquestionable reputation as a leading provider of humanitarian aid.
ISLAMIC RELIEF SOUTH AFRICA
"As the largest Muslim NGO in the world, Islamic Relief Worldwide is bringing the spirit of Ramadaan to orphans, widows and other vulnerable people through their various emergency appeals and projects.
We are currently working in the Horn of Africa, where the drought has affected over 10 million people from across Somalia, Kenya and Ethiopia. A deadly combination of successive failed rains and rising food prices has resulted in the worst drought the region has seen for 60 years.Islamic Relief is on the ground and has initiated an emergency drought response project in three districts in Puntland, Somalia. This has included successful delivery of water to 35,400 people and the provision of essential primary healthcare services to a further 1,300 women and children."
Make a world of difference with Islamic Relief this Ramadaan. Donate your Fitrah, Fidyah, Lillah and/or Sadaqah to Standard Bank, Islamic Relief SA, Account 005318459, Fordsburg Branch, branch code 005205, Reference: Type of charity & contact number.All Zakaah contributions can be deposited into FNB, Islamic Relief SA, Account 62161066933, Smith Street branch, Branch Code 221426, Reference: Type of charity & contact number.
For more information on any project or campaign run by Islamic Relief SA, call us tollfree on 0800 111 898 or e-mail info@islamic-relief.co.za. Alternatively visit us online at www.islamic-relief.co.za.
"At  the invitation of the OIC (Organisation of Islamic Confernce, Jeddah, Kingdom of Saudi Arabia), an assessment team will leave for Mogadishu on Monday 18 July 2011 to join an assessment team in identifying the current to long term needs of the drought affected victms.  Further updates to follow."
Banking Details: https://www.alimdaad.com/Main.aspx#/BankingDetails/1
MSF – Doctors Without Borders (Medicins Sans Frontieres)
Dr Hussein Sheikh Qassim : "As a Somali myself, I can say that if MSF was not here, we would be like a boat that has run out of fuel in the middle of the Indian Ocean. Without MSF's help, thousands would have died. Somalia needs your help now more than at any other time. MSF saves countless lives and, with your help, will continue to save many more. Thank you."
MEDECINS SANS FRONTIERES
Orion Building – 3rd Floor
49 Jorissen Street
Braamfontein, 2017
SOUTH AFRICA
Tel: +27 (11) 403 4440
UNICEF
"With its strong presence in 190 countries, UNICEF is the world's leading advocate for children. We have the global authority to influence decision-makers, and the variety of partners at the grassroots level to turn the most innovative ideas into reality."
UNHCR – United Nations Refugee Agency
"Working with local partners, UNHCR has distributed aid packages to some 90,000 people in Mogadishu and Belet Hawa and Dobley in south-west Somalia. These packages consist of plastic sheets, blankets, kitchen sets and jerry cans, among other items.
Starting Tuesday, more relief items will be distributed to an estimated 126,000 people in other parts of the Gedo and Lower Juba regions. Assistance also on its way to Mogadishu and the Afgooye corridor, as well as further south-west in Lower Shabelle."
http://www.unhcr.org/emergency/somalia/global_landing.html
source: Ayesha Jacub