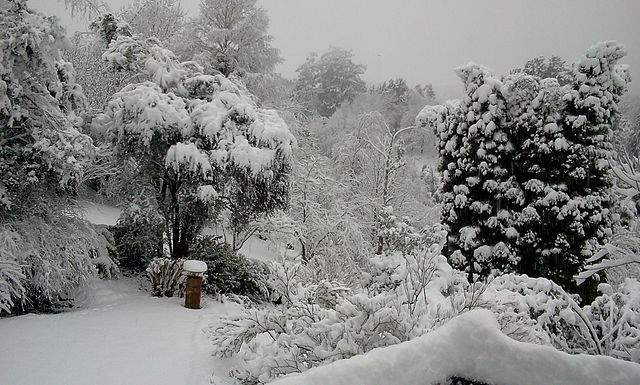 Hogsback – emailed to me by Sameera Khan
Check for traffic updates of N3 in the comment section
Heavy snowfall, rain, frost and misty conditions in KwaZulu-Natal since on Monday, have resulted in the closure of more than nine roads in the province.
Early on Tuesday morning, the KZN Road Traffic Inspectorate issued a red alert to drivers to be cautious when travelling on the province's roads because of the bad weather conditions – which are here until at least Wednesday.
from iol:
Herewith pic of snow between Piet Retief and Wakkestroom from Nadia Pahad
Here are some emergency numbers of N3 Toll
Emergency numbers:
Cell: 112
Phone: 10177
Police: 10111
N3 Toll Concession (Pty) Ltd
Manages 415 kms of the N3 toll road between Cedara in KZN and Heidelburg, Gauteng.
Head office telephone number: 011 454 3596
Head office fax number:011 454 0774
Customer care line for all enquiries: 0800203950
Website: www.n3tc.co.za
RTI spokesman Colin Govender confirmed that heavy snowfalls had resulted in the closure of the N3 between the Tugela Plaza and Van Reenen's Pass and the N2 between Kokstad and Mt Ayliff.
Other road closures include the R612 at Donnybrook, the R617 from Bulwer to Underberg, N3 at Nottingham Road (Johannesburg bound), N11 from Charles Town to Ngogo, R56 between Kokstad and Matatiele, N2 at Brooksneck and the R617 at Evatt (near Underberg).
He advised motorists to listen to the radio when travelling for regular updates about road closures and flooding.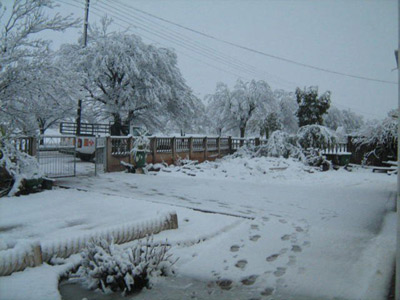 a farm in Kokstad – emailed to me by Sameera Khan
Minimum temperatures across the province are expected to drop to a crisp -2°C for Ladysmith, Kokstad, Van Reenen and Underberg on Tuesday, picking up to 90°C later and dropping to 1°C by Wednesday morning. The temperature at Giants Castle (Drakensberg area) this morning was at freezing, picking up by only 8°C later on Tuesday – on Wednesday morning the area was expected to drop to -5°C.
Pietermaritzburg was at 5°C this morning, 11°C later on and down to 7°C on Wednesday morning.
Durban, Richards Bay and Margate recorded between 11 and 12°C, increasing to 16 and 18°C.
In Joburg the South African Weather Service issued a red alert warning to Disaster Management Services with forecasters predicting a maximum of 8°C today. By mid-afternoon Vereeniging will be 6°C, with Pretoria a tad warmer at 10°C. The low in Joburg is expected to be 4°C tonight with the mercury expected to reach 13°C in Joburg tomorrow.
Senior forecaster Jan Vermeulen said there was a 30 percent chance of thunder showers, and possibly snow.
emailed to me by Sameera Khan
Driving in Snow and Ice
The best advice for driving in bad winter weather is not to drive at all, if you can avoid it.
Don't go out until the snow plows and sanding trucks have had a chance to do their work, and allow yourself extra time to reach your destination.
If you must drive in snowy conditions, make sure your car is prepared (TIPS), and that you know how to handle road conditions.
It's helpful to practice winter driving techniques in a snowy, open parking lot, so you're familiar with how your car handles. Consult your owner's manual for tips specific to your vehicle.
Driving safely on icy roads
Decrease your speed and leave yourself plenty of room to stop. You should allow at least three times more space than usual between you and the car in front of you.
Brake gently to avoid skidding. If your wheels start to lock up, ease off the brake.
Turn on your lights to increase your visibility to other motorists.
Keep your lights and windshield clean.
Use low gears to keep traction, especially on hills.
Don't use cruise control or overdrive on icy roads.
Be especially careful on bridges, overpasses and infrequently traveled roads, which will freeze first. Even at temperatures above freezing, if the conditions are wet, you might encounter ice in shady areas or on exposed roadways like bridges.
Don't pass snow plows and sanding trucks. The drivers have limited visibility, and you're likely to find the road in front of them worse than the road behind.
Don't assume your vehicle can handle all conditions. Even four-wheel and front-wheel drive vehicles can encounter trouble on winter roads.
If your rear wheels skid…
Take your foot off the accelerator.
Steer in the direction you want the front wheels to go. If your rear wheels are sliding left, steer left. If they're sliding right, steer right.
If your rear wheels start sliding the other way as you recover, ease the steering wheel toward that side. You might have to steer left and right a few times to get your vehicle completely under control.
If you have standard brakes, pump them gently.
If you have anti-lock brakes (ABS), do not pump the brakes. Apply steady pressure to the brakes. You will feel the brakes pulse — this is normal.
If your front wheels skid…
Take your foot off the gas and shift to neutral, but don't try to steer immediately.
As the wheels skid sideways, they will slow the vehicle and traction will return. As it does, steer in the direction you want to go. Then put the transmission in "drive" or release the clutch, and accelerate gently.
If you get stuck…
Do not spin your wheels. This will only dig you in deeper.
Turn your wheels from side to side a few times to push snow out of the way.
Use a light touch on the gas, to ease your car out.
Use a shovel to clear snow away from the wheels and the underside of the car.
Pour sand, kitty litter, gravel or salt in the path of the wheels, to help get traction.
Try rocking the vehicle. (Check your owner's manual first — it can damage the transmission on some vehicles.) Shift from forward to reverse, and back again. Each time you're in gear, give a light touch on the gas until the vehicle gets going.
Sources: National Safety Council, New York State Department of Motor Vehicles, Washington State Government Information & Services