Staying in Johannesburg and so close to home, one place I have been meaning to visit forever has been the Hector Pietersen memorial. Must go there soon. Hector Pietersen has been a symbol of the Soweto Uprising in 1976 when youth stood up against the Apartheid regime and said no, no to Afrikaans. What happened on that day changed South Africa forever. Children marching, police shooting at the kids. eish. All I wish is that the youth of today have enough wisdom as the youth of yester years…
.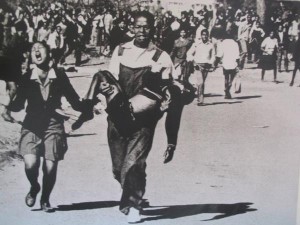 Hector Pieterson Memorial
8287 Khumalo Street
Orlando West
Soweto
Tel: +27 (0)11 536 0611/0612/0613
Fax: +27 (0)11 536 1465
OPENING HOURS:
Mondays to Fridays, 10 am to 5pm
Saturday and Sunday, 10am to 4.30pm (Closed on Christmas Day and the Day of Goodwill)
ENTRANCE FEES:
R25 for adults
R5 for students and pensioners
FACILITIES:
Book shop and coffee shop
PARKING:
Parking next to the museum.
TOURS:
Tours are available for any interested parties and school groups. Bookings for schools is essential.
WALK THE TRAIL
With very little to lose, thousands of students took on the apartheid government – and ultimately won. Starting at Morris Isaacson High School, a heritage trail follows their route.
source: joburg.org.za