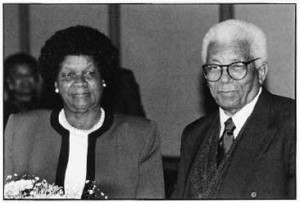 Albertina Sisulu, Mother of the struggle as she is being called has passed away on 2 June 2011. She was 92 years of age. She will be having an official state funeral.
According to Times live, Sisulu was watching the news on television with two of her grandsons Duma, 23, and Zweli, 22, waiting for her supper to be warmed-up, when she started to cough up blood. Emergency services personnel were summoned but they were unable to revive her.
One of her famous quotes was – Women are the people who are going to relieve us from all this oppression and depression. The rent boycott that is happening in Soweto now is alive because of the women. It is the women who are on the street committees educating the people to stand up and protect each other.
Nontsikelelo Albertina Sisulu (21 October 1918 – 2 June 2011) was a  South African anti–apartheid activist, and the widow of fellow activistWalter Sisulu (1912–2003). In 2004 she was voted 57th in the SABC3's Great South Africans. She died on 2 June 2011 in her home in Linden, Johannesburg, South Africa.
source: wikipedia