Nizamiye Mosque   – Largest Masjid in Southern Hemisphere
This is a video from the first time I saw the masjid in November 201o  till I read my first Jumah at the masjid 23 March 2012.

Address: Old Pretoria Main Road and Le Roux Road, Midrand
Tel: 0110245857
website :
Ladies facilities available upstairs
October 2012
Final opening ceremony of the Nizamiye Complex.  General public had lekker biryani for breakfast. Jacob Zuma and the Premier of Gauteng attended.
Uncle Ali giving President Jacob Zuma and Nomvula  Mokonyane a tour of the Nizamiye Complex
March 2012
We went for Jumah yesterday as a family to Nizamiye Masjid. The Muadhin read the adhaan beautifully. The Qiraat and Khutbah inspiring. The echo in the masjid and the surrounding beauty just keeps you in awe. Alhamdulilah.

July 2011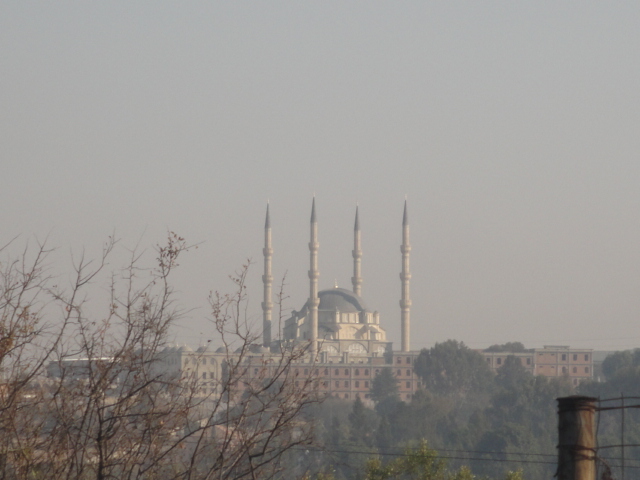 The latest 26 April 2011 – read from latest to oldest..

The masjid is really coming along nicely. The marble is being layed. Seems like most of the tiling is done.  We managed to climb up one of the minarets today. Nanima is very unfit and little scared of heights, so only went first level, Madala and bachoo went right to the top.
The school looks like it is coming along. They will have from grade 0-3 next year and grade 8.  School is run by SAMA. Mixed primary school till grade 7. The new premises will have grade 8 to matric high school and boarding facilities for boys. Girls school will be in Mayfair.  I just hope when Bachoo is in grade 8, the girls school will be closer then Mayfair. It is an amazing piece of architecture and looks similar to pictures I saw of the blue mosque in Turkey. For poiroo it seems like his school will be sorted inshaAllah
March 2011
We visited the Masjid recently. Alhamdulillah it looks stunning.
They already started teaching there and have boarding students for Grade8. We saw one boy from Cape Town and he was lissing for a good home cooked meal. He said Turkish food is an acquired taste. They school is in operation for them and they have classes till 3pm.
Next year they start with all the grade 0-3 and grade 8. School is run by SAMA school. Seems from grade r – grade 7 will be a girls and boy primary school. Only boys school including boarding from grade 8. Wonder where the girls will go after grade 7?
I hope the girls school will be in the same area because I am sure many families will move to be close to this masjid and school.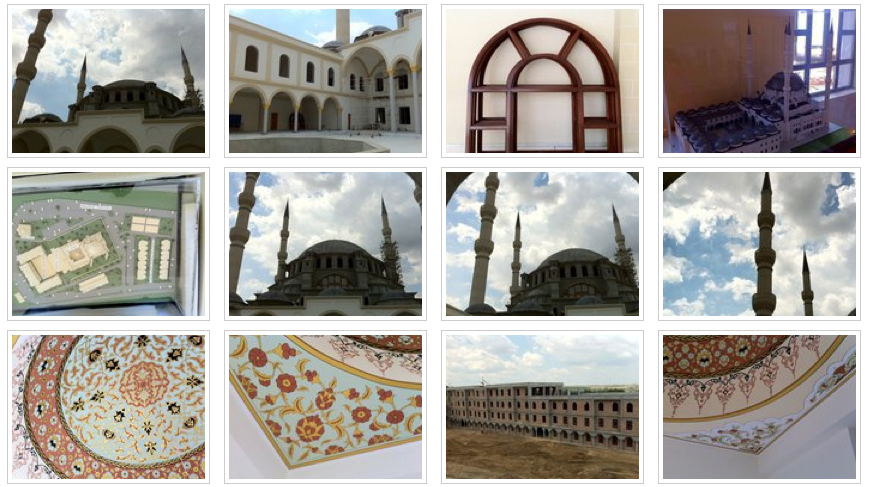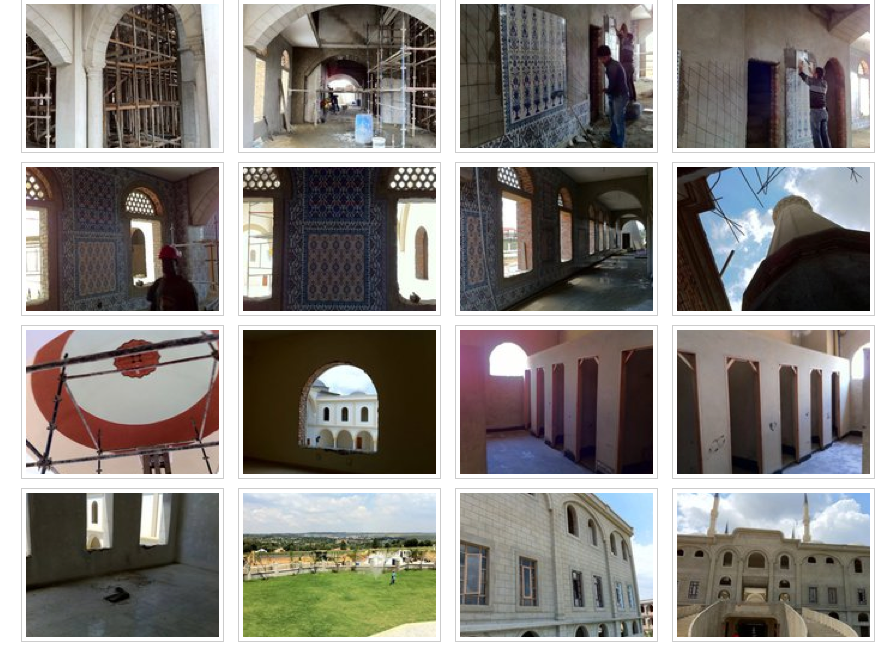 December 2010
Soon after I discovered this place, my family and I decided to go and see this place for ourselves. We met Uncle Ali, who sits in a caravan with his wife and are watching how they build this masjid. What a humble man. Alhamdulillah. Both he and his wife did not speak any English but were very warm especially towards my children giving them lots of chocolates.
The principal of SAMA then gave us the grand tour of the masjid. Here are pictures of what the masjid being built.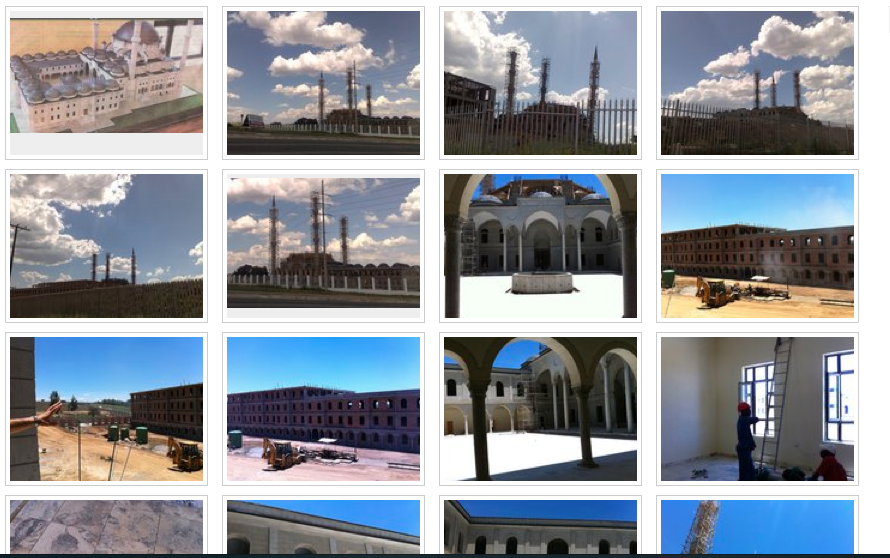 29 November 2010
I was driving to take the little one to the doctor. I was so shocked and excited and happy to see minarets in a distance. I drove that way  in September and I didn't notice anything. Within two months it seems this building came up from nothing. truly amazing. the skyline of johannesburg is changing with minarets in all directions.
I read an article recently about this biggest masjid in the southern hemisphere. I didn't give it much of a thought because I noticed on the M1 the masjid is taking forever to get done. I thought it was still in the plans and it will be done after a few years and I also thought it will be more in central Midrand.  I was surprised to see how accesible it was.
I came back and asked around again. I knew it was a place sponsored by a very generous man Uncle Ali from Turkey. All uncle Ali's I know are very generous. Apparently Uncle Ali is on site.
This is what i found from the media regarding the biggest masjid in Southern Hemisphere.
The mosque, at the corner of Le Roux Avenue and the K101, is set on 10ha and will cost an estimated R210-million.
It is modelled on the Selimiye Mosque in Edirne, Turkey, acclaimed for its lavish Ottoman architecture.
Scheduled for completion in January 2012, it will incorporate the Sama (meaning heaven in Arabic) High School, student boarding facilities, a bazaar, clinic, conference facility and a community hall for 1500 people.
The venture is the brainchild of Ali Katircioglu, 72, better known as "Uncle Ali", a Turkish businessman who is funding and managing the project.
Katircioglu, who is inspired by the teachings of his long-time friend Fethullah Gülen, a Turkish preacher, author and educator, was advised by his friend to develop the project in "Madiba's home".
Once completed, it will be handed over to the Fountain Education Trust, an Islamic non-profit organisation, which will manage the administration of the institution.
The structure, which is 80% complete, includes four minarets, each 55m high, a 32m-high and 24m-wide dome at the apex of the mosque, with 24 smaller domes adorning the boarding rooms and courtyard.
The interior will be ornamented in Ottoman style with all natural marble ceramics and Islamic artwork.
"Uncle Ali realised that there was not a single model of Ottoman architecture in the southern hemisphere and vowed to ensure the project was completed. He has turned away all donors, telling them to contribute to the running of the facilities, such as bursaries for the students, instead," said Mehmet Naci, deputy principal of Sama Boys' School.
Naci said once the project was completed, they would apply to the Gauteng Department of Tourism to have it listed as a landmark and tourist attraction.
The school will accommodate 800 pupils.
source: timeslive