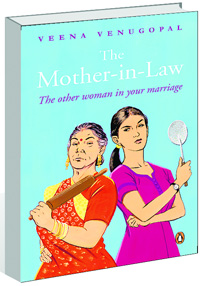 Mother in law vs Daughter in law is a universal problem all around the world. Why all the mayhem? Why all the silly milly dilly?
It is amazing , the one person who  both the mother in law and daughter in law claim to love feels like a monkey in the middle.(ie husband or son).  Is this how you treat a person you claim to love.  At the end everyone is miserable. You can blame each other for the problems but if you are not accountable and responsible for you part in this, you, will be stuck in this vicious cycle till the grave. At the end you can only change  yourself, your attitude. You have a choice to be happy or sad. It is time to remedy this situation. Enough is enough of all this childishness, pettiness. Why not use the energy constructively to solve bigger problems in the world.Wake up and shake up. Life is to short. Time is to precious to waste.
Role of the Father in law and Son/husband in all this drama
Clearly the quality of living for these guys must be a living hell. Why are they tolerating all this bickering, childish and pettiness.  The man of the house need to join forces and take control of their household and lay down the law. Zero tolerance for this type of crap. Get the issues out int he open and solve them. Have basic house rules on how members of the family are expected to behave.  Man have to really put their foot down and say enough is enough. We will not live like this anymore. Man have to really become the leaders and ameers of their homes.
Also for the sanity of all involved if you can afford to live on your own and your parents are self sufficient and healthy please do not torture everyone by letting them live under one roof. It is just asking for trouble unnecessarily to save a few cents.
This video says it all.
Root cause:
Reflect deep and hard: what is the root cause of your problem. Think about solutions. Solve it.
Other than Satan/Shaytaan always wanting to cause problems, here are soom root causes suggested by my chomies on facebook.
Jealousy
Caste system – not from same tribe, village, language, gaam, dunya
One is the master, the other is the slave
Assumptions and misunderstandings
Loneliness
insecurity
Rejecting each other
Arrogance and pride
Diagnosis
Change the mindset and remove the stigmas. . in laws, out laws.. who coined this word. Why are your spouse's parents called in laws in the first place? You both marrying each other for love not for law. You go in there already feeling bang and negative about your in laws.
Let's change the name from today to Mother in love and Daughter in Love or something more positive. Any suggestions.
Recommended cure
1. Know that Allah/God is watching you. He watches what you think. He watches what you say. He watches what you do. You will be accountable for all this on the day of Judgement. Thinking bad about each other is also a form of backbiting.
2. Pray for each other. Ask Allah/God to bless each other
3.  Greet each other warmly, with a warm tight bear hug and kiss.
4.  Respect each. I won't say respect each other like your own parents and daughters, (i know how bachoo and I argue) i say step up the respect a notch. Your own mother will sometimes scold your even worse than your MIL will ever but your mum you will tolerate and your MIL you will hold a grudge till Qiyamah(judgement day).
5. Listen to each other without taking things to personally.
6. Try to understand each other. Have empathy, walk in each other's shoes for one day.
7. Do not react when angry. Be calm, when things are settled and you thought about the situation. Rationally discuss and reslove the problem.
6.  Accept each other warts and all.
8. Spoil and pamper each other. buy presents for each other.
9. Build a friendship with each other.
10. Call and visit
11. Make an intention to be positive about the relationship.
12. Stop being jealous of each other. it is not a competition.
13. Smile at each other
14. Don't focus on the differences. Find common ground
14. Be open minded, not childish and petty.
15.  Forgive each other, stop holding grudges
16. Give each other space to breathe.
17. Do not shut each other out, especially when it comes to kids and grand kids
18. Share the chores. Sometimes it is best you have one captain in the kitchen. Sometimes to many cooks do spoil the broth.
19. Do not interfere in with mother son relationship and do not interfere with husband and wife relationship. each relationship is unique. Let husband spend one on one quality time with his mother.
20. Sometimes the hormones can blow things out of proportion. Daughter in law might be pregnant, mother in law menopausal. If you feeling anxious, annoyed, depressed, don't find someone to pick on or blame for feeling down. Maybe it is a medical issue.
21. Have an attitude of gratitude. Thank each other. Be grateful you have each other.
22. Love each other for Allah's/God sake.
Any other tips.. leave a comment
Rules of Engagement between Mother in Law and Daughter in Law
R-E-S-P-E-C-T.

For Mothers-in-law

1. Respect your daughter-in-law's parenting style — even if you don't agree with it. Much has changed since you were raising kids. More to the point, you're the grandparent now and you're not in charge. Earn your daughter-in-law's trust by playing by her rules when you're with the kids.
2. Respect her relationship with her mom — and don't try to compete. You'll lose.

3. Respect her relationship with your son — and don't badmouth her to him. You'll lose that battle, too.

4. Remember, good parenting is learned on the job — and she's doing the best she can. Give her the benefit of the doubt, and never forget how sensitive you were as a young parent trying to do your best.

For Daughters-in-law

1. Respect your son's relationship with his mother — whatever your opinion of her. You may get him on your side of your conflict with her, but your entire family, especially your children, will suffer as a result.

2. Remember that all grandparents — unless they are abusive or their behavior is in some way harmful to the kids — deserve to know their grandchildren, and vice-versa. If possible, let all the grandparents spend time alone with the kids. That is the only way they can establish lasting bonds.

3. Cut the grandparents some slack — within reason. They may buy the kids two scoops of ice cream instead of one, or ridiculous, overpriced toys — and then let them stay up an hour past bedtime. They don't mean to dis you; this is just their way of showing their extravagant love for your children.

4. If you happen to be the mother of sons, beware. Someday, if you're lucky, you'll be a mother-in-law with grandchildren, too. Behave accordingly.

For Both Mothers-in-law and Daughters-in-law

1. Boundaries is not a dirty word. In fact, it's one of the best words in the English language — and in practice, healthy boundaries are what keep us sane and foster friendly relations. Set boundaries for yourself, and respect your in-law's boundaries. When you do stray into each other's crosshairs, try to see the situation from her point of view.

2. Let go of your expectations about how things should be and work with the way things are. This means accepting the complete cast of characters who make up your whole crazy extended family, as well as other nonnegotiable circumstances.

3. Always think of the kids. Model the values you want the children to learn. Do you want to train them in sniping and disrespect, or trust and compassion?

4. Remember, the heart is a generous muscle, and there's enough love to go around. The Beatles said it best: And, in the end, the love you take/is equal to the love you make.

Barbara Graham is the editor of the anthology, Eye of My Heart: 27 Writers Reveal the Hidden Pleasures and Perils of Being a Grandmother
Other interesting articles about In law issues
In-Law Issue