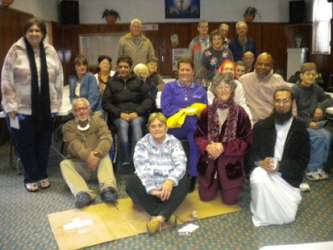 South Africans in general are very fortunate to be living in a country that is not only peaceful but is also developed in diverse fields. However, whilst enjoying the blessings of this prosperity, South Africans need to also reach out and help others who may not be so fortunate.
The Bismillah Trust, established over 25 years ago under the guidance and auspices of its Executive Chairman Yossuf Jeeva aspires to excel in humanitarian relief, providing humanitarian services with the highest level of compassion, professionalism and care under the supervision of a team of professionals from Port Elizabeth. The Bismillah Trust is dedicated to providing humanitarian services in crisis and non-crisis situations to most needy orphans, widows and destitute, irrespective of race, religion, culture, creed and geographical boundary.
Amongst the many programs The Bismillah Trust is actively involved in is the senior citizen program. Last year a total of 2000 local seniors were hosted by the Bismillah Trust. This year we hope to reach 4000 by December. Over the past 12 months the Bismillah Trust has worked in the most remote and destitute areas of Port Elizabeth and surrounding areas including Helenvale, Kwanobuhle, Motherwell, Kwazekhele, Zwide and Sydneham amongst others.
This week the Bismillah Trust hosted seniors from the Vistarus Community Centre in Sydneham, a centre that caters primarily for the destitute. The program every week religiously commences with a motivational talk by social services Director Ml Moosa Leher on the role of elders in society. Each senior is then given a significant amount of spending money and taken our to the Greenacres Mall as part of their outing. Once they complete their shopping they are all treated to a wholesome lunch.
Mrs. Lynne du Plooy writes a warm letter of gratitude "Thank you Mr. Yossuf Jeeva so much for blessing me. It was greatly appreciated, after all it is the little things one does for each other that count in life. Your blessing enabled me to purchase more wool which I need to carry on blessing others with bed socks which I crochet and knit for the elderly. I was able to bless another five people with your blessing! May you be most richly blessed for your generosity, kindness, caring and love for others." Ray Wiedand a 73 year old man writes "As a European Christian, it fills my heart with a deep sense of profound pride, wellbeing and joy to be a South African Citizen. Just to know that there is someone or some organization that still happens to care for the countries citizens of yesteryears". He further wrote "It is with a heart filled with pride that I congratulate you on doing a job well done, and may the Almighty God bless you, guide you and keep you in His Peace, both now and forever more."
Executive Chairman of the Bismillah Trust Yossuf Jeeva, in acknowledging the sentiments shared has made a sincere commitment to persevere in empowering and enlightening the citizens of this beautiful country.
The Bismillah Trust is dedicated to making a difference by empowering , enlightening and motivating the citizens of this beautiful city. For more information regarding this and other programs of the Bismillah Trust please visit www.bismillahtrust.co.za