Tiger Diaries
Here below pictures of the woods Panjo the tiger was found.  Eish so close to my parents home near Verena.. There were reports he was in between Bronkhorstpruit, Verena, Groblersdaal, Middleburg, Panjo who looks like royalty must have been heading for the beautiful kingdom trail which is very close to Pine Ridge where my folk stay.
My mother (poiroo's Nanima) said if Panjo came home she would have asked the neighbour for all her chickens that she sells and asked the helper to feed it the chickens while she went and dressed up and waited the TV guys to come and the reward. I told her just get the neigbours chickens and hang them on the palisade fence.. he was sure to rock up cos Panjo LOVES chicken
Poiroo's Nanima was speaking to the madalas that were walking past the house collecting plastic bottles for recycling and tell them.. they must be careful there is a tiger in the area.. the man said he heard that is why he is carrying a stick not because he couldn't walk..
my brother in law phoned his mother  when he heard the spotting close to home in Middleburg and told her there is a tiger in the area.. she told the helper to go and lock all the doors lol.. i mean he managed to pick a lock in that big black bakkie.. who knows hey.. maybe he can open doors LOL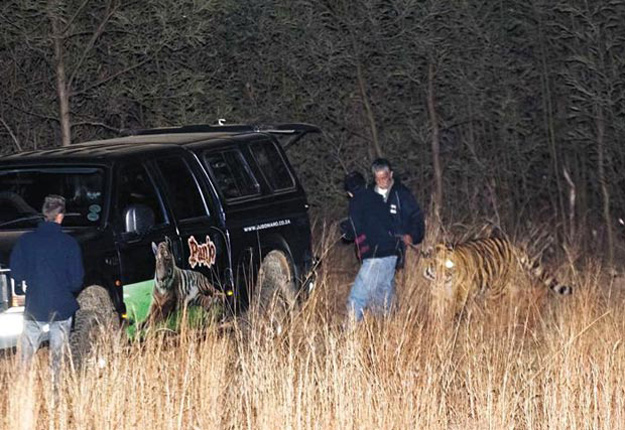 The woods  where  the Tiger Panjo was found. (Cornél van Heerden, Beeld) source: news24.com
For real time twitter updates on latest regarding Panjo the Tiger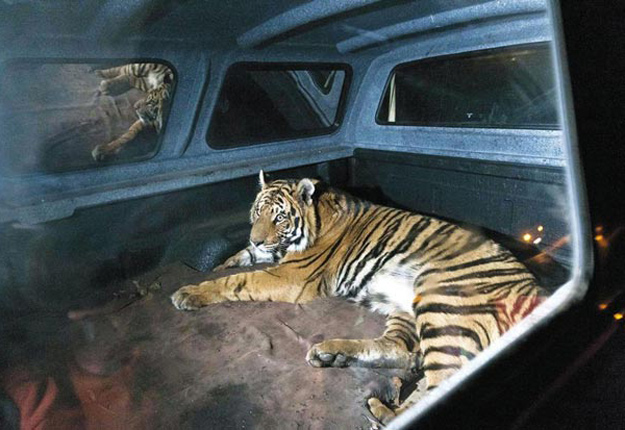 from news24.com -Panjo the hand-reared tiger lies in his owner's bakkie, after going walkabout for two days. (Cornél van Heerden, Beeld)
29 July
Panjo Tiger was found near woods in Verena
According to IOL
By Louise Flanagan and Shaun Smillie
The elusive Panjo, the Bengal tiger, was spotted and captured on Wednesday night at 7.43pm, metres away from the team which had frantically been searching for him.
A few minutes later, a ravenous Panjo was on a leash being fed meat before he was taken away on a truck. Experienced trackers calmed him down after the intensive search.
A team of special carnivore-tracking dogs had been brought in. A Weimaraner called Zingela used to track wildlife had just returned from a search on a farms in the Bronkhorstspruit-Groblersdal area, along with team.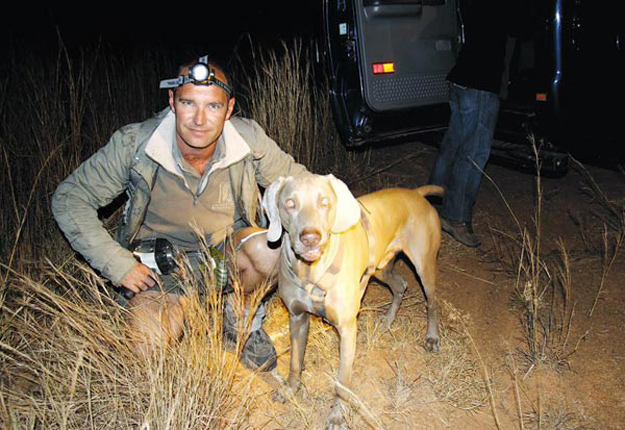 While they were waiting, the dog started barking. There were shouts of "the tiger is there". And just metres away, – on Swartkoppies farm – the tiger was found.
When trackers found tracks late yesterday afternoon, it became a race against the fading light to find him.
Before sunset, searchers had identified a small forest a couple of kilometres long, where the tiger was thought to be hiding in the Verena area, south-west of Groblersdal, in Mpumalanga.
Search team vehicles were moved to provide watchpoints along the edges of the forest, and a helicopter and small plane flew overhead with the borrowed infrared thermal imager to spot the tiger's body heat.
Tracker "Mad Mark" Tennant said that as night fell, the tiger would go on the move. "He's gonna pop out tonight," Tennant said.
The spoor had been spotted by Verena farmer Charlie Ntuli just before noon. "We heard over the radio there's a lost tiger," said Ntuli. "I just saw the spoor."
The team searching for Panjo was, at that stage, camped about 2km away.
Ntuli did not have a phone and did not know who to phone anyway. He walked across the farm, saw the search team and told them about the spoor.
Just before the sun sank to the horizon, Shangaan tracker Johnson Mhlanga arrived and spotted spoor that indicated the tiger had left the forest area and was heading northwards towards a settlement.
Panjo had disappeared on Monday night, after escaping from his owner's bakkie.
28 July
Panjo the tiger was tracked  near Bronkhorstpruit . Earlier on Wednesday, animal tracker Mark Tennant found fresh paw prints in the soil near Verena. according to trafficologist Aki Blood hound from Kruger arrived to trace panjo smell.Chopper with thermal detector also assisting . All the Mpumalanga residents can have a good night sleep knowing that the tiger was found. Found about 100km from where he jumped bakkie. Panjo seemed calm, Goosey relieved.  Finally  Panjo had his chicken..
27 July
I went all the way to India to see a tiger in the wild. All I had to do is go to Delmas and close to home in Verena. A tiger is a big orange cat with black stripes. looks like this one below. I feel like going to look for  the Tiger. If you see him , the name of the tiger is Panjo. Hope you having Nando's for lunch cos Panjo loves chicken. We don't want him to get a taste of you. Apparently he is like a pet dog. So if you living in the area and you see this beauty. just pick up a stick and say firmly "NO"..
Oh man he could be very close to my parents place.. Panjo the tiger was also seen last seen last night in the Verena area (R554) near Loskop Dam, search underway
The latest as of Wednesday 28 July, Panjo was seen near Middleburg crossing the road. I think he must be looking for the chicken.: According to ewn Panjo's owner is preparing to drive to Middleburg where a woman claims she has seen the missing tiger.
Have you spotted Panjo?
For real time twitter updates on latest regarding Panjo the Tiger
Last night, Tuesday,27 July they used thermal tracking to find Panjo. Today, 28 July apparently
A woman phoned Goosey Fernandes to say she had seen him cross the road in front of her while on her way to work. "She said, 'what the hell is this?'," Fernandes said. "We are going to go there and see," he said.
Yesterday, A tiger is allegedly on the prowl between Groblersdal and Delmas. His handler Rose Fernandes said the cat managed to get out of the bakkie while they were driving on the R25. Call the police if you see him.
source:news24 and ewn
Panjo, the 17-month-old Bengal tiger which has been missing in Mpumalanga since Monday night. (Photo supplied)
JOHANNESBURG (Reuters) – A 17-month-old tiger escaped from the back of a pick-up truck while it was being driven to a veterinary clinic in South Africa, triggering a helicopter search by police and wildlife experts.
Owner Rose Fernandes told local radio on Tuesday she had no idea how the 140 kg (310 lb) animal, called Panjo, had managed to spring a lock on the pick-up as it headed for a medical check-up in Springs, a town 40 km east of Johannesburg, South Africa's largest city.
She said Panjo was used to humans and told anyone who came across the animal to treat it "like a dog" by picking up a stick and saying "No" in a loud voice.
Giving it meat, especially chicken, would also be likely to keep it happy, she added.
Police were less confident about the big cat's passive nature, urging people living along the stretch of road where the tiger is thought to have escaped to keep their eyes open and report any sightings to the authorities.
(Reporting by Xola Potelwa, Editing by Ed Cropley)
I hope the reunion of Panjo and Goosey will be as touching a Christian the Lion and his chomies.
httpv://www.youtube.com/watch?v=__UHSZHJ9LA&feature=related