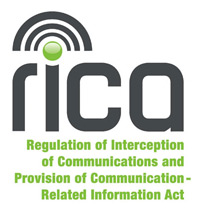 We do not RICA cellphones online please contact your service provider directly. 
Please note you can't RICA online, they need to see you in person with all the documents required. Also best to contact your cellphone service provider if you have any RICA related queries or lost phone queries or private number stalking queries.

URGENT – remember to RICA your SIM card by the end of June, or you WILL get cut off. No further extensions will be granted. Check your RICA status:
Vodacom – SMS RICA to 31050 (free)
MTN – dial *131*4#
Cell C – dial *133*7422#
Virgin Mobile – Dial *124#
8.ta – already RICA'd
Register your cellphone number now!
What is RICA?
RICA is the Regulation of Interception of Communications and Provision of Communication-Related Information Act.
RICA is the new law from the South African Government that requires everyone to register all new and existing cellphone numbers from 1 July 2009.
New SIM cards will only be activated on the cellular networks once registered.
Existing cellphone numbers that are already active on the cellular networks must be registered within 18 months from the effective date.
Why must you register?
• RICA is a legal requirement from Government and all customers with cellphone numbers on cellular networks in SA must comply with the law.
• You can help to make South Africa a safer place, as this law aims to help lawenforcement agencies to identify the users of cellphone numbers and track criminals using cellphones for illegal activities.
Which cellphone numbers must be registered?
All contract and prepaid cellphone numbers and data SIM cards must be registered:
• New cellphone numbers – in order to have your number activated
• Existing cellphone numbers – to ensure that your number does not get disconnected and your number lost
Where do you register?
You can register at most stores where you can buy a starter pack. For more information, contact your cellular network's Customer Care Centre or visit their website.
RICA pages on their website
http://www.8ta.com/ – Heita cellphone network, which was launched earlier this year, was introduced when the Rica legislation was already effective.
What information and documentation do you need to take with you to register?
You are required to register the following information:
• Cellphone number
• Full names and surname
• ID number or passport number. You will need to show one of the following
documents as proof of identity:
– green barcoded ID document
– ID card
– temporary ID certificate, or
– passport
• One physical address. You will need to show any document that includes your name and residential address such as a bank statement, municipal rates, cellphone or retail account (not older than three (3) months), existing lease, rental or credit agreement, insurance policy, current TV or motor vehicle licence.
• If you live in an informal settlement you can provide a letter and/or affidavit from a school, church or retail store where you receive your post (this letter must be on an official letterhead or have the stamp of the school, church or retail store).
• Registration must be done in person to confirm your identity.

How much will it cost you to register?
RICA is absolutely free!

When must you register?
• You must register for RICA from 1 July 2009 DEADLINE:  end of June 2011. You will be cut off.
• From this date onwards, all new cellphone numbers will have to be registered to be activated on a cellular network in South Africa.
• Customers with existing cellphone numbers that are already active on a South African cellular network will have 18 months from the effective date.
• Existing cellphone numbers that are not registered at the end of this period will be disconnected from the cellular network until they are registered.
What is going to be done with your information?
All information will be kept confidential in a secure data base and cannot be used for any purpose other than the purposes allowed under the RICA Act.